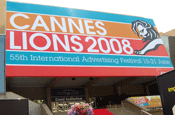 Jury president Craig Davis, the worldwide chief creative officer at JWT, said simply that no UK work was good enough. Work is judged with no agency or country details attached.

Jury member Damon Collins, the executive creative director at Rainey Kelly Campbell Roalfe/Y&R, defended UK creative standards, however.

"There's a lot of work I've seen at the D&AD and other awards that wasn't entered so far as I can tell," he said. "There is plenty of good work in the UK."

South Africa bagged the Press Grand Prix, although it submitted fewer entries than the UK, according to Philip Thomas, the Cannes Lions CEO.

An Energizer campaign that "spoke to a universal truth and could have come from anywhere in the world" took the top prize for DDB, Johannesburg.

The work ("paint", "pants" and "park") triumphed over Indian and Australian campaigns from Leo Burnett Mumbai ("Che" for Luxor Writing Instruments) and JWT Sydney ("echidna", "koala" and "cockatoo" for Olympus Binoculars).

The Energizer work detailed the mischief children can get up to when the batteries on their toys run out - such as painting a dog red, showing each other their privates and gaffer-taping a friend to a playground roundabout.

Davis said the Grand Prix was awarded by a comfortable majority.

"This is extremely powerful and resonant, a great piece of work for a proper, grown-up brand. It also has its fair share of charm and is a catalyst for conversations."

India picked up four of the nine gold Lions. Davis said he was "delighted" to see winning campaigns from countries such as India, "not noted for great work previously at the festival".