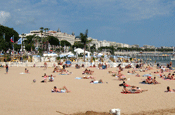 A Coca-Cola identity won the first ever Grand Prix in Design - the latest category to be added at Cannes - for Turner Duckworth, based in London and San Francisco.

Turner Duckworth's "Classic Aluminium Bottle" for Coke also delivered it a Gold Lion.

Golds also for Laimbie-Nairn (for the Business Channel broadcast identity) and The Partners (for the National Gallery Grand Tour) added to the strong UK performance.

Despite a relatively poor showing on the shortlist, UK shops have ended up dominating the top spots, taking three of the nine golds awarded.

In addition, Minivegas picked up a Silver for S4C interactive voice-activated idents and Channel 4 Television brought home a bronze for The Big 4.