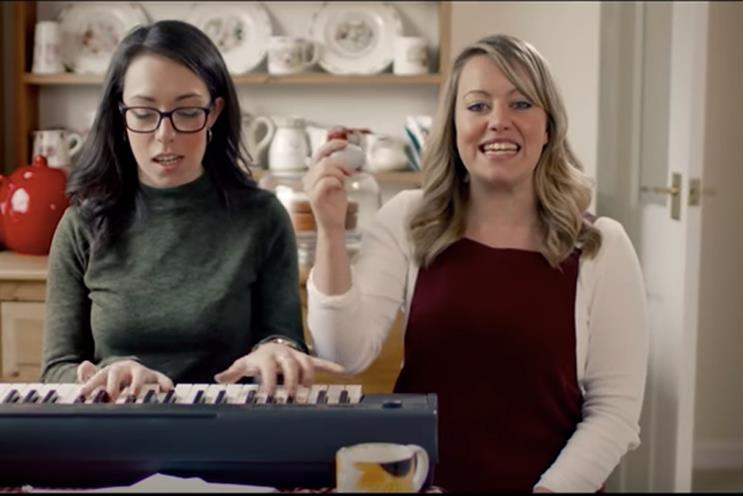 The YouTube Ads Leaderboard is a list of the top 10 most popular online video ads in the UK each month. The ranking is determined using some of YouTube's strongest signals of viewer choice – number of views within the country, view rate (how much of an ad people choose to watch), and percentage of organic views versus paid views. Watch January's top 10 below.
Nationwide's CMO Sara Bennison tells how YouTube provided an instant barometer of positive reaction to its winning film
Sarah Bennison, chief marketing officer, Nationwide Building Society
"There has been much discussion on the 'art vs science' of advertising. When we saw an audition tape for 'Sisters', gut feel told us all that this was a delightfully fresh take on the loyalty element of our brand story. The fact that we were all instantly singing about 'chubby cheeks and doughy knees' gave us the courage to take a punt and unleash Flo and Joan on the viewing public. No science involved.
"The social and video platforms have provided a great instant barometer of positive reaction, as the sisters and 'sistered' of the nation found something in the ad which spoke with honesty to their relationship.
"This has been highlighted through the various comments we've received across all platforms, such as: 'The Nationwide sisters adverts are a lot of fun. Can so relate'; 'I think the lyrics are quite accurate, I'll have to play it to my sister'; 'Literally me and my sister lol'; 'Please tell me this reminds you of me as much as it reminds me of you'.
"The likes/dislike ratio on YouTube also helped us get a good feel of how people were generally responding to the ad. That provided the 'science bit', which in turn helped us hold our nerve when a few people turned to social media to post vile, sometimes very abusive and misogynistic, comments about the duo.
"YouTube engagement is available before formal brand tracking as a measure. However, we have always seen a close correlation in the past, which is particularly important in a campaign like 'Voices Nationwide' where we experiment with lots of different films before investing more in the ones which fly."
1. Nationwide Building Society: Voices Nationwide - Flo & Joan on sibling rivalry
Creative agency: VCCP
Media agency: Wavemaker
2. Calvin Klein: Our Family #mycalvins
Creative agency: In-house
Media agency: Vizeum
3. Footasylum: Nike VaporMax Plus ft. Mo Stack
4. On the Beach Holidays: Let's Get You To The Beach
Creative agency: Cheetham Bell
Media agency: The7Stars
5. Laundrapp - You do the living, we do the laundry
6. Apple - iPhone X: Animoji Yourself
Creative agency: Media Arts Lab
Media agency: OMD
7. Vauxhall Grandland X: Grand Engineering
Media agency: MediaCom
8.Gymshark: LA pop-up store
9. OnePlus: 5T Sandstone White Limited Edition - Classic Revisited
Creative agency: In-house
Media agency: In-house
10. RZSS Edinburgh Zoo: The Giant Lanterns of China
Media agency: Space and Time
For previous months' YouTube Ad Leaderboards, see here