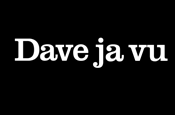 The channel rebrand follows UKTV's recent acquisition of an additional slot on Freeview to accommodate a time shift version of the Dave channel.

Dave ja vu will replace Dave+1 on all platforms from today and will now be available via Freeview, Sky and Virgin Media.

Steve North, the channel head of Dave, said: "Renaming our +1 service Dave ja vu will help bolster the already successful Dave brand further while appealing to our target audience of 16-34 year old male viewers, who are sure to get the joke."

UKTV has also announced the launch of its third rebranded factual channel, called Yesterday, on 2 March.

Yesterday's rebrand follows the launch of Eden and Blighty and the entertainment channels G.O.L.D., Watch and Alibi.