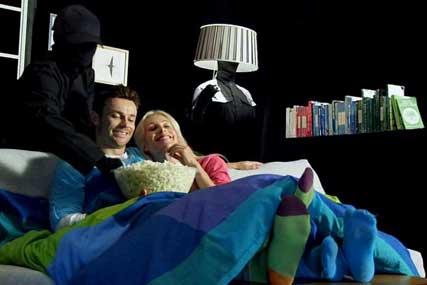 The new identity was designed to reinforce Watch's new brand positioning of "TV is better shared" and was devised by Watch's creative agency Harriman Steel, which was appointed earlier this month.
The new on-air and off-air look for Watch includes four new idents that draw on Japanese Black Theatre, a performance combining dance, mime and acrobatics, and show four occasions when people come together.
In addition to the idents, Harriman Steel has developed a new logo with a new font and colour palette as well as new on-air imaging such as blipverts, end credits and end frames.
Watch's revamp will support an autumn season that includes the first three series of the US drama Primeval, ahead of Watch's premiere of season four next year; a second series of Scream if You Know the Answer! hosted by Duncan James and the return of Dancing with the Stars.
Watch was launched by UKTV in October 2008 as a general entertainment channel, using the positioning "See it, love it, share it". It has a 0.4 per cent share of viewing, behind the free-to-air channels ITV2 and BBC Three.
In July, UKTV's executive director of business and operations, Julia Jordan, said the changes to Watch would not be a "rebrand" but an attempt to reinvigorate a channel that has not yet reached its potential, especially at peaktime.