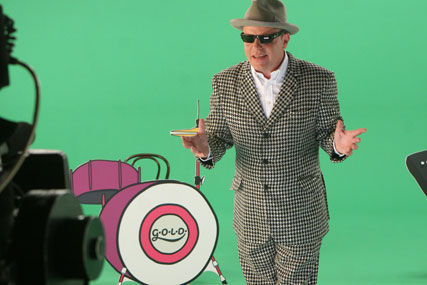 The campaign will revolve around the Madness song 'House of Fun' which will be the theme for all of Gold's summer promos and branding elements from Friday until the end of August.
A spokesman for UKTV said the campaign is borne out of the idea that the behaviour of Brits during the summer is "Madness" as the British public get out their bad tattoos, wear socks with sandals and men take their tops off at any opportunity.
The four ads, which were made by Red Bee media, feature Suggs and Madness in front of a graphic of the Gold mind map and feature the new tagline "Stick Something Funny On".
Julia Restall, marketing manager at Gold says: "This summer Gold took inspiration from the hilarious reaction Brits have to the sun every year.
"The first sunny day we have seems to send us into a spiral of madness, flashing our white bits, getting burnt to a crisp and generally feeling giddy that summer is finally here."
The ad will run across the UKTV channels and will be supported online with exclusive behind the scenes clips and an extended version of the promo on the Gold website, www.golaughdaily.co.uk.

UKTV rebranded UKTV Gold to Gold, which originally stood for Go On Laugh Daily, in October 2008 as part of the overhaul of its 10 channels and is available on Sky, Virgin and Top Up TV.