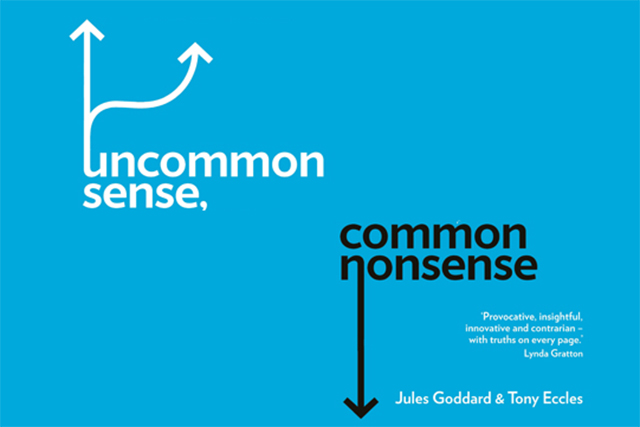 I have a confession to make: generally I hate business books these days.
There are three reasons for this. First, almost without exception, they contain a single idea followed by 300 pages of illustration, repetition and justification. By the time you get to the end, you've almost forgotten what it was in the first place.
The second reason I hate business books is the way they're written: set out your big idea, explore some good, but obscure (preferably digital), examples, examine some case histories of known failure and top with icing of management speak and business-school best practice. Leave to simmer.
Uncommon Sense, Common Nonsense is about how to stay 'super'
And the third reason (without wishing to endorse Mark Earls' Herd thinking any further) is that we, in business, all then spend three months absorbing that idea (and our response to it) into our communications and planning (just like everybody else) before moving on to the next great 'revelation'.
It is just as Syndrome says in Pixar's wonderful film The Incredibles: "I'll sell my inventions so that everyone can be superheroes. Everyone can be super! And when everyone's super… no one will be."
This book, however, is different. Uncommon Sense, Common Nonsense is about how to stay 'super'. It's about how to combat the learned behaviours of big business that turn companies into corporate mediocrities.
Winning is about creativity
Written by two London Business School academics – Jules Goddard and Tony Eccles – the main message of this wonderful book is very simple: aim to be different, not just better. Winning is about creativity and imagination, and is a singular activity, whereas losing is about a pattern of behaviour.
As one section so adroitly notes "success is best measured by added value not added profit".
There is much for marketers to get their teeth into: the idea that effective strategy is as likely to flow from action as lead to action and that great strategies emerge from doing things, just as business plans change once products go to market. Digital marketing has made test and learn more measurable than ever, so it's a timely reminder that this is as likely to precede a great strategy as follow it.
Busy fool syndrome
A similarly sharp couple of chapters warn against 'busy fool syndrome', and remind us that smart creative people give themselves more time to solve problems and get better results. "They learn the habit of posting a question… to the back of their mind, knowing that their subconscious mind will work on it without the need for deadlines."
In the closing section, Goddard and Eccles introduce us to the subversive nature of discovery and learning: a process that doesn't conform to curriculums and is not business-school 'professionalisation'. It is instead uncontrollable and surprising. Only by getting out of business settings, experiencing other journeys and stories, will we create the right conditions and learn, discover and flourish.
In a world of best practice and benchmarking, this book is a reminder that just because digital has made everything efficient and more measurable, ideas and imagination are the difference that will drive growth even faster.
CRIB SHEET
If you only have time for this… six key points from the book.
1 Taking my previous business-book hatreds in turn: there is a central idea in the book, but there are lots of other ones – simple, strategic ideas and helpful 'builds' (which you can steal).

2 Don't lose yourself in case histories.

3 This book is written for people with no time and a low attention span: it's a series of espresso shots, two to three pages long with diagrams that make sense. It is practically designed for dipping in to on the Tube, rather than a plane trip to the US.

4 It does fail on my hatred number three, because I've just told you all about it and now you're all going to buy it and talk about it. But there again, I'm confident we can't all be different.

5 And for those of you who don't buy or read it, one of the highlights is to aim to be different, not just better.

6 Collins and Porras [authors of Built to Last] were right all those years ago – winners have a higher purpose than revenue and share­holder return; purpose is still everything.