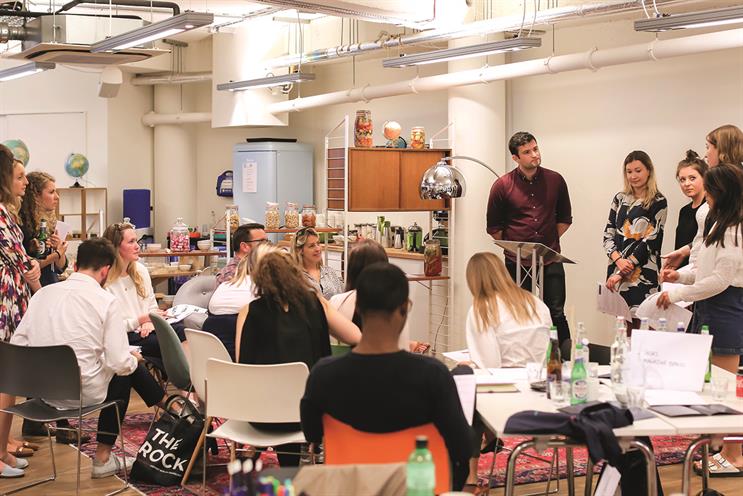 The importance of trusted environments and context in media has never been more important, due to the rise in concerns around brand safety in an era of short-termism and demand for instant results. These key themes were addressed by Magnetic in The Lab 2017, its two-part initiative for 45 rising agency stars.
Part one featured an action-packed day of talks and interactive sessions in which the planners tackle a specific brief. Part two involved spending a morning immersed in the cultures of magazine brands, gaining hands-on experience of the publishing and editorial environments at some of the UK's most famous titles.
Sue Todd, chief executive of Magnetic, opened The Lab 2017, welcoming planners and addressing the strengths of magazine media in terms of its ability to provide valuable moments that combine pleasure (a positive emotional experience) and purpose (a strong receptivity to advertising) in a trusted environment.
Marcus Rich, Magnetic's chairman, addressed the challenges facing print publishing, focusing on issues surrounding ROI and perceptions of digital, while also emphasising that the issue of short-termism, from boardrooms and marketing departments through to media plans, must be tackled. Rich referred to the Enders Analysis report, commissioned by Magnetic, which shows, among other things, a worrying imbalance in favour of activation above brand adspend.
Dr Nick Southgate, a behavioural econometrician, highlighted the relationship between consumers' psychology and their actions, also making the point that bad metrics deliver bad media outcomes.
The opening sessions certainly provoked some reappraisal among the planning audience about the role of magazine media in the broader advertising ecosystem.
Calum Brennan, a planner at MEC UK, said: "The intricacy and expansion of the many digital media channels we now have at our disposal has led to more data than we know what to do with, or how to use well. In some cases, this has led to advertisers being caught up in solely data-led solutions to drive business growth, and to lose sight of the fundamentally important aspect of building relationships with consumers. After all, the emotional connection between product and consumer is often seen as the ultimate marketing definition of what a brand should be."
David Weeks, executive director at The Week, then hosted a panel that focused on effective measurement and the necessity of embracing the quality of the advertising environment and context within this. Campaign trends editor Nicola Kemp moderated a "Meet the Editors" panel that included Heat's Lucie Cave and Esquire's Alex Bilmes.
Planners welcomed the opportunity to hear directly from the editorial leaders of the magazine brands. Alice Furlong, a planner at Manning Gottlieb OMD, said of the experience: "Most of the contact we have from magazine brands is via their sales teams, so I found it really useful to hear directly from the editors themselves – to hear their take on why they believe brand partnerships are the future of their brands, and the ways in which they want to work with us and our clients."
Behind-the-scenes insight
Participants said that they benefited from the interactive nature of the afternoon session. Goodstuff's Olivia Shackleton said: "It's really good to see how briefs are dealt with from the other side, which will definitely help when we look at briefing out partnership briefs to publishers."
Part two of The Lab was designed to provide the planners with a greater understanding of the workings of their favourite magazine brands. They spent time with the editors and commercial teams at prominent titles including Elle, Glamour, Grazia, NME, Olive, and The Week.
Manning Gottlieb OMD's Pinelopi Stoforopoulou says: "I got to spend the day with the team behind NME, got a sneak peek of the editor's work flow, and understood how they decide about their content, and how they transform this into the premium context in which their brand and advertisers can co-exist. The day was completed by going through some examples of how great brands can fit with NME and how the NME brand and the advertiser share a symbiotic relationship in order to deliver a meaningful and long-lasting experience to their readers."
This point, about the power of magazine media to provide meaningful experiences to audiences, and trusted and relevant environments that supply greater effective­ness for brands, was identified as crucial by many of the planners following their time in The Lab. They also picked up on the scope and potential of magazine media in a changing consumer and advertising environment.
As Jodie Silver, a planner at MEC UK, said after attending The Lab: "Magazines are no longer seen as independent print titles, but rather exciting overall brands that include many elements. This includes branded events, in-house influencers, creating communities, and key social-media channels, as well as the original quality and respected print titles. All these factors allow magazines to evolve with online trends, which could be seen as enhancing the brand to its highest potential by exploring areas other than straight print."
Sue Todd, chief executive, Magnetic
"Our aim with The Lab is to provide as immersive and intimate a learning experience as we can to ensure the brand experience is highly relevant and useful to the delegates. Magazines have the enormous benefit of being, at heart, innovative content businesses crammed full of craftspeople who care passionately and deeply about their audiences. Seeing how those skills translate to commercial briefs that help bring brands in to those trusted worlds is the key objective of The Lab."
Anna Hickey, managing director, Maxus UK
"The Lab programme is an absolutely invaluable experience for agency planners in helping them to see the true value of magazines and how to leverage that for their clients' benefit. More than ever we, as planners, need to remember the importance of trusted, high-value, high-quality content in considering the context into which we are integrating our clients' brands. And also that magazines can play a highly variable role in answering the business challenges we are receiving in briefs from clients, as long as the KPIs are clear and the right metrics in place to measure success."