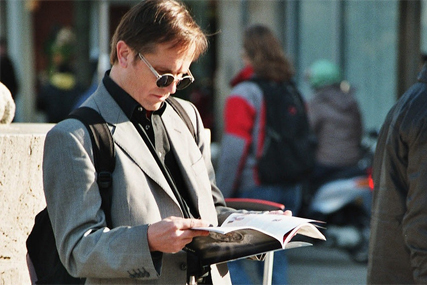 There are plenty of sources to inform us what, how, when and how much people are reading magazines or national press titles, but not so much about why they are consuming them.
A study from Carat's CCS (Consumer Connection System) helps throw some light on this question, and shows that the role of magazines in a consumer's media lifestyle varies according to gender and age.
There are vast differences in the reasons why women read magazines vs why men read them.
For women, sitting down with their favourite magazines and a cuppa is seen as a form of escapism. In contrast, only 9% of men read magazines for this reason.
Fifty three percent of 25-44 year old women agree that magazines offer 'Me Time', away from the stresses of their busy days (vs only 36% of all regular magazine readers). When in this frame of mind, women are more likely to turn to monthly glossies such as Cosmo (30% more likely than the average reader to read Cosmo for 'escapism').
Also popular among women are gossip magazines which provide readers with content to talk about with their friends and colleagues; 47% of Heat's regular readers agree they read magazines to give them something to talk about compared with 28% of regular magazine readers.
Consumers also read these types of magazines to brighten up their day with one in four OK! readers agreeing they read a magazine in order to lift their mood.
We also explored which parts of a magazine women are more likely to read when in a particular mood. For example, when women are looking for 'Me Time' they are more likely to read features about celebrities (Index 140), while when grabbing a magazine as a bit of treat/reward they would be more likely to look at the fashion and beauty page (Index 152).
Men's relationship with magazines appears to be much more functional and straightforward. Men over the age of 35 will read a magazine to gain knowledge; 47% agree they read magazines to learn things.
Magazines aimed at younger men are regarded as simply a form of entertainment by their readership; over one in three Nuts readers will read a magazine for this reason. These titles will also provide a social currency to chat about down the pub with their mates (FHM readers are 54% more likely to read a magazine in order to have something to talk about).
Motivations for reading magazines among regular readers split by sex (%)
Magazines also offer a font of knowledge and inspiration among the older generations of both sexes; almost half of over 45's will read a magazine to give them ideas compared to less than one in three 15-34 year olds.
When looking at specific sections within magazines, an interesting finding is that the older generation are more likely to read letters from readers (almost half of 55 plus read these regularly), while 44% of 25-34 year olds are more interested in the cover story, with some going straight to it when opening a magazine.
More than half of 15-24 year olds are most interested in the fashion pages, vs only 25% of 45-54 year olds.
How does the role of newspapers compare to that of magazines?
While CCS data has shown that consumers read magazines for varying reasons, it also shows that the role of national newspapers among those who regularly read them appears to be much more universally functional, with some differences between tabloid and broadsheet readers.
More than 6 in 10 readers will pick up a newspaper in order to keep up to date with what is going on. Broadsheet readers are the most likely to read their newspaper for this reason (68%).
Telegraph readers are the most likely among readers of the broadsheet titles to say they read their newspaper in order to learn things (64%, index 136).
As we would expect, tabloid readers appear to be less motivated by the need for knowledge with less than 4 in 10 (39%), and only 30% of Daily Star readersm, agreeing they buy a title for this reason and they are more interested in quick entertainment via gossip stories and sport, etc.
Motivations for reading National Press/Magazines among regular readers (%)
Richard Morris, head of planning at Carat