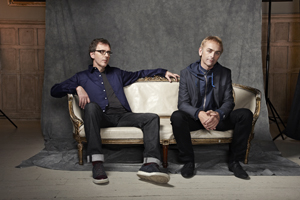 Rick Smith and Karl Hyde will work alongside the ceremony's artistic director, producer Danny Boyle, and will be responsible for all the music in the three-hour ceremony on 27 July.
Underworld and Boyle first collaborated in 1996, when track Born Slippy featured in Boyle's film Trainspotting. Since then, the duo have created music for films A Life Less Ordinary and The Beach, and last year they worked together on the National Theatre production of Frankenstein.
Boyle said appointing Underworld is the "final piece of the jigsaw" for the team of British creatives who will deliver the ceremonies.
"What's interesting about working with them is how much broader their taste is than you might imagine," he added
Hyde said: "We want to leave people with a musical memory of the show rather than a purely visual one. It's a great honour to be asked to do this and one we're taking very seriously – it's certainly not something we'll get the chance to do again."
In February, the London Organising Committee of the Olympic Games and Paralympic Games appointed Take That's creative director Kim Gavin artistic director for the closing ceremonies of both the Olympic and Paralympic Games.
To leave a comment register and let us know your thoughts.