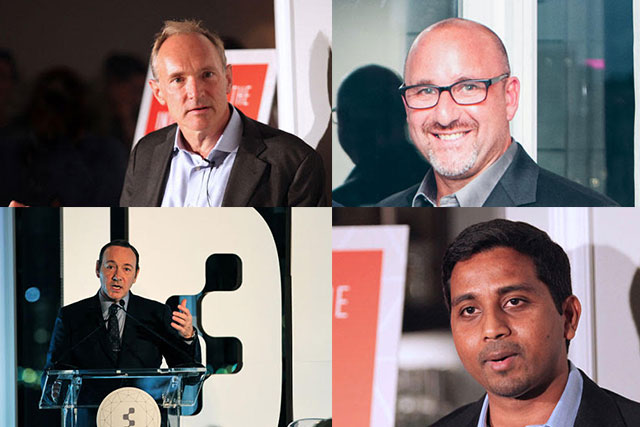 The world wide web is 25 years old this year. In this relatively short period of time, it has transformed the way we communicate, the way we search for information, the way we shop and the way brands meet consumers.
Looking forward to the next quarter-century, the pace of change is likely to be as unrelenting, with greater computing power, connected homes and data passports making the world even more connected.
Predicting the future is a minority sport, but one man who can claim better credentials than most is the inventor of the technology that makes possible much of what we now take for granted. As a humble contract programmer at CERN, Sir Tim Berners-Lee developed the code that led to the creation of the web.
Computers are going to be doing a lot more. They will be helping us to organise our time and guiding us, because computers will be smarter
Berners-Lee shared his perspectives on the development of the web and the unfolding future at the latest Idea Exchange event hosted by SapientNitro. Idea Exchange is a platform the agency has established to share, with chief marketing officers and business leaders, the ideas and experiences of groundbreaking speakers who are reimagining what is possible where technology and story meet.
Nigel Vaz, the senior vice-president and European managing director of SapientNitro, said brands could learn from how other sectors had adapted to change: "Change has reshaped ways of thinking and doing in many industries. We can inspire clients by talking to visionaries and innovators to help shape our thoughts on innovative creativity, technology and data."
What Berners-Lee envisaged as a solution to share and access information more effectively has become the transforming idea of the age. For brands, the web has reshaped the communications landscape as consumers now interact with brands across an array of different touchpoints online and offline. Creating a brand story that can work across these touchpoints is the prevailing marketing goal.
Brands looking to meet this challenge face a technological landscape that continues to develop. In some ways, the first 25 years have only scratched the surface of what is possible. Looking ahead to the next quarter-of-the-century, Berners-Lee predicted the technology themes that would frame the debate, while Vaz considered how they would affect brands.
Computers get smarter
If the first machine age was about augmenting our physical abilities, computers are now augmenting mental and cognitive faculties. They are getting more powerful, while human brains are not, Berners-Lee said. In some fields, they are already starting to surpass human performance, and this will only continue. Computers have gone from pattern recognition, driven by sheer processing power, towards interpreting the nuances of complex information. "Computers are going to be doing a lot more," he said. "They will be helping us to organise our time and guiding us, because computers will be smarter."
Data is set to be an even bigger part of the connected world of the next 25 years
As technology starts to take over more of our lives, especially functional activities with relatively low value or interest, brands will need to reconsider their communication strategies, Vaz said. Presumptions about the roles that communications play will start to break down as some touchpoints become less relevant while technology intervenes between the brand and the customer.
With the Internet of Things becoming more of a reality and web-enabled devices such as smart fridges monitoring our food consumption, the role of traditional advertising – to try to influence brand choice – must evolve too.
The disintermediated brand
Berners-Lee sees more of a role for technology throughout the corporation. Business-to-business supply chains will be disrupted as bidding for contracts becomes more programmatic and human contacts become less important in establishing supplier relationships. In con­sumer markets, low-emotion purchases will benaffected in the same way.
Some brands will be more fundamentally affected by these changes than others, Vaz said: "Brands will have more mediated interactions with consumers. Some brands will never interact with a real person. There will be a profile that the brands can interact with, comprising the data that we allow them access to."
The question of who consumers will want to have relationships with is pertinent. Not every brand will claim a direct relationship: who wants a relationship with their toilet-paper provider? Brands will have to figure out how to aggregate data within themselves: "A grocery profile with Ocado would set particular parameters on purchasing, such as buying organic milk once a week," Vaz said. "There may be no brand expressed, just parameters for a trusted retailer. Ocado then becomes like a utility provider. It's your preferred shopping engine."
My data
Data is set to be an even bigger part of the connected world of the next 25 years, Berners-Lee said. However, contrary to some fears, the consumer will wrestle data back from the government and corporations, and will choose what they want to share.
There will be huge demand from people to get data from hospitals, from government, from everybody they deal with
He explained: "What I think we're going to see is a switch from the emphasis being on you as a big company taking my data and incorporating it in your databases and doing all kinds of smart and perceptive analysis about how your brand can address moves in my demographic."
With data on health, finances and behaviour available, there is an opportunity for companies to provide extra value to consumers to help them run their lives better, Berners-Lee said. "There will be
huge demand from people to get data from hospitals, from government, from everybody they deal with," he predicted. "The business/consumer relationship will have a continuous flow, I hope, of data from the business to the consumer, and there will be some really interesting, really powerful apps that can be run by the consumer."
Managing this data and the way it is presented by the consumer will have repercussions for brands. Individuals could have a bespoke digital passport that helps them to navigate their online relationships. "Digital footprints and avatars are ways that allow people and brands to know about you and interact with you," Vaz said. "Data passports will allow us to decide which data we will share with some brands to allow them to make it easier for them to serve us, and we will only share if it makes life easier."
The rise of data also means that marketers now have to exist between magic and logic
Brands are going to have to make it easier to give them data. A company such as Apple makes it easy for consumers to give access to their data in return for products that they value. However, others may place unrealistic data demands on consumers for trivial transactions, Vaz warned.
New creativity
The rise of data also means that marketers now have to exist between magic and logic, Vaz added: "Some people in our industry say there's nothing creative about data and it has never created wealth, but there's nothing further from the truth. Understanding data is the most creative exercise as you mine it to find nuggets."
Creativity now comes in different forms as brands have to resolve what is incongruent between the way they communicate and what they deliver. They must present a consistent story and experience across every touchpoint, an approach that SapientNitro labels "be, do, say".
New brands such as Uber exemplify this, reimagining service delivery to create a frictionless experience. However, legacy brands such as Burberry, which has introduced virtual fashion shows, and British Gas, with its Hive smart heating system, demonstrate similar energy.
For agencies, the challenge of the next 25 years may be an existential one. "How do you stay relevant in a world where the client and consumer are pushing and breaking boundaries?" Vaz asked. "If all you can do is keep up, then you are going from strategic partner to commodity. Idea Exchange helps us check those boundaries and break them."
For Berners-Lee, the fact that the future is unwritten adds to the excitement: "Who is going to make something that is even more powerful than the web, built on top of the web, which is going to be the next platform?"
---