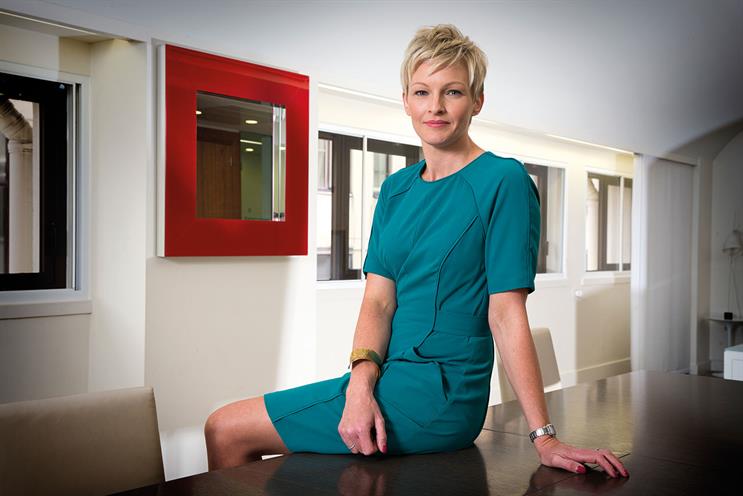 A keen skier, Anna Hickey says she loves being pushed into something that terrifies her. This should stand her in good stead as she begins her stint as the managing director of Maxus at what she calls a "critical time" for the agency.
Maxus has been the fastest-growing network for the past five years – its media billings increased by 13.3 per cent in 2013, with overall global activity rising to more than $11 billion, according to Recma.
With Lindsay Pattison's move to the global chief executive role, and Nick Baughan taking over as the UK chief executive in October last year, the challenge now lies in sustaining that level of growth and learning how "to maintain that unique sense of Maxus", according to Hickey.
Her experience of building Primus, the agency created by Group M for Johnson & Johnson, and managing the multimillion-pound business in six markets across northern Europe, has set Hickey up for her new task. "Primus has been operating as a standalone agency, so it's given me the opportunity to do an MD role in some ways," she says.
By introducing a new way of working, she developed an integrated client team instead of different departments – a structure that Maxus has also adopted. "I believe it's the right way to do things in today's media world, where the boundaries between different media channels and areas of expertise are disappearing," she explains.
"Every day, someone is exposed to conversations about any possible aspect of media and that helps people grow because you naturally absorb all of that learning from the rest of your team." Client-faced businesses should always focus on the client's success and needs, she adds.
Hickey believes that it's a big reason why Baughan took her on – in a job she claims she only went for because the process would be good experience.
Her bold attitude probably showed Baughan that Hickey would bring the fresh approach he was looking for. She says: "The first time I met him, I said to him: 'So, are you looking for another one of you?' Because, obviously, it's quite weird for me going into the role that he was doing before. He sort of laughed and said: 'Half and half; half me and half something a bit different.'"
The different side to her could be that she is a people person at heart – or maybe it's because she made Baughan and Pattison laugh at the second interview when she turned up with a laminated presentation slide.
Hickey takes every opportunity to express her commitment to making sure staff are happy and motivated. She describes her team at Primus as a family and insists she is not someone who minds being interrupted every five minutes.
That, and being a mother, helps her keep perspective if something goes wrong. "People say I'm calm all the time but I'm always shouting at my kids to do this or that, so being a mum makes me more balanced at work," she says.
Calm is a word that immediately comes to mind for Neil Jones, who worked with Hickey at Carat.
"She was never flustered or panicked and clients loved her – calm, bright, a force to have around and a style much like Lindsay Pattison's," he says. "If you had a client facing a problem, Anna would always be able to help."
Clients are people and if you deal with them in a courteous way then the relationship will work itself out
This warm nature extends to the way she approaches client relationships. It's no secret that a couple of Maxus clients, including BT and L'Oréal, have a reputation for being difficult, but this looks like another hurdle that Hickey will take in her stride.
"I'm firmly of the belief that most clients are lovely," she laughs. "There's always a reputation that follows them and I think you have to ignore that. Clients are people and if you deal with them in a courteous way then, more often than not, the relationship will work itself out.
"Every time the client is having a bad day, we need to understand the reason behind it and help them. I don't believe there are clients that are bad clients. I think sometimes they are just in a difficult business situation or having a problem at home."
But having a bad day isn't the same as the aggressive approach and unfair practices from brands that Scott Knox, the managing director of the Marketing Agencies Association, has been fighting.
Hickey remains poker-faced when she says: "I'm not worried about it. It was very similar when we won Johnson & Johnson but I found them to be lovely people who are extremely smart and willing to collaborate."
Hickey may have an understated nature, but her determination to succeed comes through. She is generally unknown to media owners and focuses more on client relationships. "Experienced media owners won't have heard of her," Jones says. "She never made a great effort to call them; her focus was on clients and I admired that in her."
Her profile is sure to change now. Today was Hickey's third photo shoot in a week, something she will need to get used to as her work at Maxus will catapult her further into the limelight.'