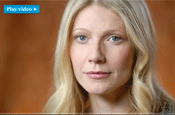 The digital campaign, created by Profero, urges the public to take action to prevent babies being born with HIV.
The push, which launches on Wednesday 27 February, includes a four-minute film narrated by Gwyneth Paltrow drawing attention to "unwanted gift" of HIV that is passed from mothers to their babies in developing countries every year.
Users will be driven to the film by a series of online banner ads. Each features a celebrity supporter of the children's charity asking the question: "Do you want a gift?"
When the mouse is rolled over the ad, the celebrity says: "This is not a gift you want - it's an unwanted gift that's passed from mother to child almost every minute."
Viewers are then pointed to a microsite, where they can view the film and sign an online petition that pressures G8 leaders to keep their promise to deliver funding that will prevent babies being born with HIV.
From Wednesday, the film can be viewed on: www.unicef.org.uk/thegift