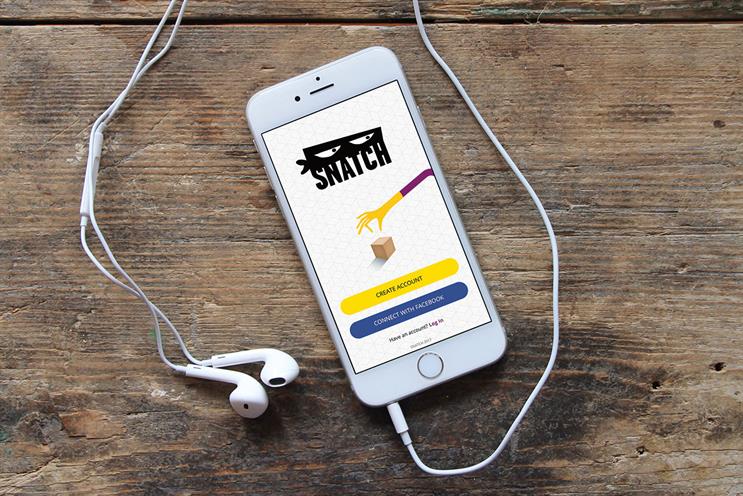 The six-figure investment will see Unilever acquire a minority share in the start-up. Other backers include Velocity Capital, a consumer technology fund co-founded by BMB founder and vice-chairman Bil Bungay.
The investment, through Unilever Ventures, is unusual as Snatch only officially launched last week and has not yet reached series A funding stage.
Snatch has so far signed contracts that will provide £15m worth of prizes, ranging from personalised Marmite jars to a full year of paid university fees. Other brands involved in the game include Topshop, Now TV and Just Eat, with more expected to follow.
The app – founded by chief executive Joe Martin, chief operating officer Jamal Hirani and chief marketing officer Phil Lloyd, who was previously head of advertising at Paddy Power Betfair – is targeting 100,000 users by the end of March.
In the game, players travel around via a real map to find parcels, which are retrieved in an augmented-reality interface similar to that of Pokémon Go. If a parcel is held by a player for long enough, it can be opened to claim a prize from one of the app's partners – but, as the name suggests, parcels can be stolen by others.
Lloyd said it is vital that Snatch is a game with an addictive element. "Snatching heightens the love of the game," he said. "Stealing is something we've been taught not to do but, in an environment like this, it's quite fun."
Snatch will need to avoid the fate of Pokémon Go, which experienced a rapid decline in active users after an initial flurry of hype. Chapman Lee, creative technologist and interactive developer at SapientRazorfish, said Snatch is "something that has to be developed to do well", suggesting that elements such as leaderboards and stories could help it gain a following.
Lucky Generals worked on the brand positioning, creative design and comms for Snatch.
How to win gaming in marketing
The initial popularity of Pokémon Go, which broke download records on its release in July last year, inevitably had marketers wondering how its augmented-reality and location-based gameplay could be used to reach millennials sceptical of traditional brand communications.
But Nik Roope, executive creative director and co-founder of Poke, said other games need to be conscious of what went wrong. By mid-September, active users of Pokémon Go had fallen 80% from its peak in July. While it still has a decent following, it has been dubbed "Pokémon Gone".
Roope said: "Augmented reality is seductive. But you need an awesome product that stands out, a story and purpose that lines up. Pokémon Go had this and it still died quickly.
"Then you need to reach critical mass. Getting there can be expensive if you don't have a mass of latent fans like Pokémon.
"Brands should be wary that there's good innovation and bad innovation. If you're not building meaningful connections, then what's the point?"