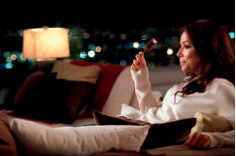 The promotion offers consumers the chance to win a MasterCard loaded with values between £10 and £1000. To enter, participants must visit a dedicated microsite to supply a unique code, found on the Magnum's stick.
It is understood that Magnum's owner, Unilever, was inundated with responses and has been unable to produce enough prize cards quickly enough to satisfy demand.
Although common in the US, the use of pre-loaded payment cards for product promotions is relatively new to the UK.
A Unilever spokesman said it had worked with the Institute of Sales Promotion to rectify the problem and that the promotion was 'over-delivering versus expectations'.
To date, the company has received more that 475,000 entries and awarded £850,000 of the prize pool.