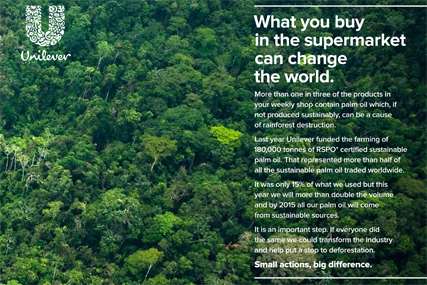 The one-off press ad shows a rainforest and uses the headline "What you buy in the supermarket can change the world". The ad then goes to say "More than one in three of the products in your weekly shop contain palm oil which, if not produced sustainably, can be a cause of rainforest destruction".
The oil can only be grown in the tropics and its increasing production has led to rainforests being cleared, impacting wildlife such as orangutans in countries including Malaysia and Indonesia.
Conservation charity WWF wants companies to buy oil that meets environmental standards, certified by the Roundtable on Sustainable Palm Oil (RSPO), which is between 10% and 20% more expensive.
Almost two years ago Greenpeace activists staged protests against Unilever to highlight the destruction of the Indonesian rainforest at a factory in Port Sunlight, on Merseyside, and at the Anglo-Dutch conglomerate's headquarters, Unilever House, on Victoria Embankment in London.
The protests coincided with a Greenpeace report entitled 'How Unilever Palm Oil Suppliers are Burning Up Borneo'.
The report also stated that companies that supply Unilever with palm oil for use in products such as its Dove skincare range were destroying the Indonesian rainforest, claiming that the FMCG giant was probably the largest corporate consumer of the oil in the world.
The ad, which launches today, states: "Last year Unilever funded the farming of 180,000 tonnes of RSPO (Roundtable on Sustainable Palm Oil) certified sustainable palm oil. That represented more than half of all the sustainable palm oil traded worldwide."
It indicates Unilever's continuing commitment to using sustainable palm oil: "It was only 15% of what we used but this year we will more than double the volume and by 2015 all our palm oil will come from sustainable sources."
In the ad Unilever then calls upon other companies to do more: "If everyone did the same we could transform the industry and help put a stop to deforestation."
The ad finishes with the text "Small actions, big difference".
Dave Lewis, chairman of Unilever UK & Ireland, said of the campaign: "As our consumers, our peers and other organisations are becoming increasingly aware of the potential problem that mis-managed plantations of palm oil pose to the environment, we want to clearly communicate the strides we are making towards achieving our goal, and encourage other companies and industry players to take more decisive action to tackle this problem."
In October last year a report published by WWF criticised retailers Boots and Waitrose for not doing enough to use sustainable palm oil while praising Sainsbury's efforts to limit the environmental damage incurred by its production.