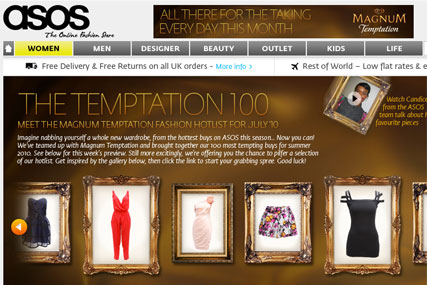 The campaign, called The Temptation 100, ties together shopping and ice-cream, and represents a guide to the season's most desirable fashion items and accessories.
The campaign, planned by Mindshare, centres on a game featuring 100 items that have been selected by Asos's magazine fashion team.
Participants will have 60 seconds to work with a virtual (elegantly dressed) thief, who will help them "dash and grab" as many items as they can from a revolving gallery and place them in box.
The selection becomes their prize entry in the daily draw. A winner is selected at the end of each day.
The game can be accessed on the Asos site in an area created by Iris.

Asos.com will attempt to drive traffic through to the site via promotion across a number of marketing channels throughout July.
Unilever launched Magnum Temptation in 2009. It is available in a number of flavours, including chocolate and caramel and almonds.