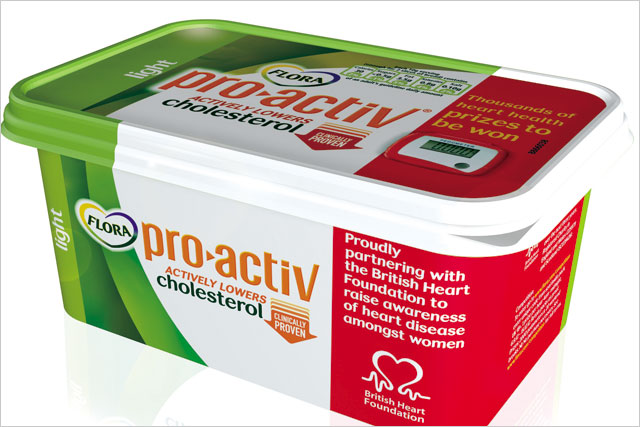 The 'Love Your Heart' campaign launches later this month and runs until early December, encouraging women to talk to friends, relatives and colleagues about heart disease.
Flora pro.active is Unilever's cholesterol-lowering brand.
The campaign tells women to check their risk factors, including cholesterol, with a healthcare professional, and to make the "simple" diet and lifestyle changes that help to reduce their risk.
The campaign features TV, press, radio, PR, digital and social media activity, including on-pack and in-store promotions that offer free cholesterol tests.
Unilever is keen to debunk the myth that men are the main victims of heart disease. The activity will use the strapline, "Proudly partnering with the British Heart Foundation to raise awareness of heart disease amongst women".
The global FMCG giant is also donating £750,000 to the charity.
Sinead Stack, brand manager, Flora pro.activ, at Unilever UK, said: "Heart disease is the single biggest killer of women in the UK, killing three times more women than breast cancer each year.
"However, with simple diet and lifestyle changes, people can help reduce their risk – a key message throughout our 'Love Your Heart' communications. With the investment into our TV activity alone, we will reach more than 90% of` UK adults over 45 years old. It is a great opportunity for us to help make a difference."
Nick Radmore, head of marketing and brand at the British Heart Foundation, said: "Debunking the stereotype that heart disease is a man's disease is a continuing challenge for us, so this partnership is a great way to help us reach more women through different channels and environments."
Further activity includes a competition on promotional packs offering consumers to win a heart health prize – a pedometer or one of 20 weekend holidays – by entering a unique code into www.flora.com/competition.
Follow @loullamae_es