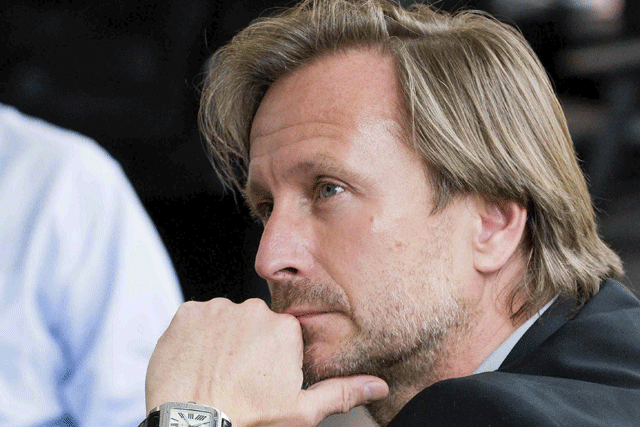 Marc Mathieu could well be marketing's magic man. Last month, as senior vice-president of marketing at Unilever, he and chief marketing officer Keith Weed briefed the company's marketing teams and roster agencies. Top of the agenda was laying out a fundamental change to Unilever's marketing philosophy: a programme known as 'Crafting brands for life', or, more loosely, 'More magic, less logic'.
Mathieu, a former Coca-Cola marketer, is set on creating a better balance between 'magic and logic' in its marketing model, changing its 'by-numbers' culture that has led its brand strategy in recent years.
Some might argue that the creative spark needed to put the 'magic' in a standout ad has been overshadowed by Unilever's drive to prove campaign success with quantitative research, prior to implementing it in multiple markets.
Unilever is not alone in its pursuit of more magic, however. According to Kraft European marketing director Daryl Fielding, if you achieve that balance between logic and magic, the rewards are disproportionately high.
'I am insanely ambitious for marketing at Kraft and want magic and logic. We are generally stronger on the logic right now,' she admits. 'Truly great marketing demands logic and magic - that is why it is not easy to get to "great". A logical strategy, based on sound consumer, shopper and business analysis and insight is indispensable. But just as crucial is creative flair and imagination, which build from that strategic foundation.'
One of those in the audience at the 'Crafting brands for life' presentation recalls Mathieu declaring: 'We want to put the creativity back into brand communication.'
The positive sentiment was met with mixed reviews. Agencies welcome the opportunity to develop creative brand strategies, take more risks, learn from mistakes and be given room to fail - all of which Mathieu is promising. Nonetheless, one source was less than convinced it would become a reality.
'We've heard this before,' he says. 'We'll see whether Unilever is prepared to let agencies take risks, especially when their ads repeatedly get scrapped for not passing the Millward Brown (Link) test.'
Unilever's strategy has been seen as top-down and data-led - informally dubbed a form of 'Procterisation'. This, says a source close to the firm, is partly due to the numbers-led mindset of its chief executive, Paul Polman (formerly of Procter & Gamble), and partly to Unilever's restructure to become a globally focused company.
In 1999, it embarked upon a 'Path to growth' business strategy designed to grow the operation quickly and globally, but also, informally, to rein in a marketing sprawl and align world markets into manageable businesses.
'Those growth strategies (including the recent "One Unilever") had been necessary,' says a former Unilever executive. 'There was too much judgment and not enough rigour. For some brands, this has led to rigor mortis.'
Quantitative proof, he adds, now has a stranglehold on Unilever's marketing, with agencies no longer asked to create great ads, and the metric of awareness based on being the top hit on Google.
With one brand strategy implemented across several markets, the Unilever source believes it is inevitable that country managers will want to see proof that it works before committing their own media budgets.
Mathieu, however, insists that it is essential to 'give our marketers and our agencies the right to fail' to 'unlock' the magic of its brands (see box, left). 'Our strategy is about being ambitious about the creative potential of our brands rather than trying to manage by numbers,' he tells Marketing.
Phil Chapman, chief marketing officer at Kerry Foods and a former Unilever marketer, says it is 'fantastic' that the company is striving for this change in its marketing. 'I believe in magic, but based on insightful analysis,' he says. 'Most average work needs laying more at the door of clients rather than the agencies. The best agencies respond when they believe the client cares enough to want brave work.'
Chapman adds: 'I suspect it will be encouraging as much change internally as externally; that can only be good.'
The strategy will undoubtedly open the gates to some fresh ads from Unilever. However, a persistent fear of failure within the £39bn-turnover organisation could well hinder its quest for magic.
UNILEVER VIEW: MARC MATHIEU EXPLAINS HOW AND WHY UNILEVER'S MARKETING NEEDS TO CHANGE
- What does the 'Crafting brands for life' strategy mean in reality?
'Life' is all about putting people at the centre of everything we do. It recognises that marketers are both scientists and craftsmen, and that finding the right balance between magic and logic is what will create brilliant brands and brand experiences that mean something important in people's lives.
- Why now?
Unilever's ambition is to double the size of the business while reducing the environmental footprint, alongside our sustainable living plan. We have identified three key seismic shifts in the world that marketing needs to embrace. These are: the immense growth in emerging economies and the organisation that comes with it; the global realisation that we have to live sustainably; and embracing the power of digital, which has completely changed the dynamics of the relationship between consumers and brands.
- How will this work on a global vs local scale?
I used to say at Coke that you can be a global brand with the right amount of art and science. Consumers are global but, fundamentally, they're local.
In today's world, especially with digital, we must enable people to manage marketing in a way that truly empowers. We don't need to do all the marketing any more as consumers want to do it for us.
For this to happen, we need to truly shift the way we build our brands to create marketing that people want to pick up and amplify. This underscores 'Crafting brands for life'.
- Which brands are in need of an injection of magic into their marketing?
That's not something I would want to engage in right now, but there is a fundamental belief that, to give our brands the potential to unlock their magic, we need to give our marketers and our agencies the right to fail. Our strategy is about being ambitious about the creative potential of our brands, rather than trying to manage by numbers.
THE MARKETING CULTURES OF UNILEVER AND P&G: VIEW FROM THE INSIDE
PROCTER & GAMBLE EX-MARKETER
- Describe P&G's culture in three words.
Conservative, process-driven and hierarchical. But in many ways these are strengths as well as weaknesses.
- How would you describe the marketing culture there?
P&G has a very thorough marketing culture in that significant investment in a well thought-through training regime produces marketers who can work effectively in the P&G machine.
- What was your marketing mission statement?
To improve the lives of the world's consumers - that was the entire company ethos and it ran through P&G's DNA.
- What was the balance between creativity and quantitative testing?
In P&G's characteristically quantifiable terms, creativity made up about 30%, with functionality taking up the rest. That ratio also underlines the importance of each.
It's not so much that the marketing culture was risk-averse, just that we'd been trained robustly on what worked. That had been identified by P&G with methods that had been tried, tested, and quantified. And let's face it, within big brand owners, no one is going to take a creative risk on the multimillion-dollar brands like Pampers or Tide in the same way they would with relatively small brands.
- Is the marketing approach/culture fixed firmly or constantly evolving?
P&G's culture has always been evolutionary rather than revolutionary. P&G marketers will never throw the baby out with the bath water, yet their training enables them to exploit and lead big initiatives such as shopper marketing and online engagement, all within robust P&G parameters - which is no bad thing.
- What do you see as the barriers to creativity there?
The key barrier is the pressure to show a clear, demonstrable ROI - P&G's mindset is that if you can't quantify the effectiveness of creativity, there's no reason to invest in it.
- Does/did the culture encourage risk-taking within marketing?
No.
UNILEVER EX-MARKETER
- Describe Unilever's culture in three words.
Consumer-led, insight-driven, integrity.
- How would you describe the marketing culture there?
Ambitious, committed, collegiate.
- What was your marketing mission statement?
To delight consumers.
- What was the balance between creativity and quantitative testing?
A good blend, but at times too many cooks. Unilever needs to be clearer about who is responsible for creative development. Formally it is clear, but the culture is collegiate, which means everyone wants to make everyone happy.
- Is the marketing approach/culture fixed firmly or constantly evolving?
It's evolving - this is another (in a series of drives) for 'risk-taking'. Getting the balance right is the challenge, but it has done this well in the past - Persil's 'Dirt is good' is a perfect example. The approach does shift, but not quickly.
- What do you see as the barriers to creativity there?
Unilever might need a different type of marketing animal. It needs bravery, being able to bring people with you and knowing when to strike out. A creative concept should still be based on insight, but at Unilever you sometimes had to fight to get a truly creative idea through.
- Does/did the culture encourage risk-taking exist within marketing?
It did if you were brave enough. However, I'm not sure many risk-takers are recruited or stay on at Unilever.
READERS' COMMENTS from Marketingmagazine.co.uk
Sarah Farugia - I am delighted that a significant organisation like this is going to be more imaginative. Great marketing is just as much art as it is science and when big corporates find their character and recover a pioneering spirit, then we know new things will happen and everyone will benefit.
Ian Irving - What a wonderfully refreshing sentiment from one of the globe's most powerful FMCG brands. Great marketing should not always be about numbers. We all know how many long hours, blood, sweat and tears have gone into creative solutions to then be simply left on the cutting-room floor due to a 'let's play it safe' attitude. I applaud Marc and Keith and just hope that we might see more marketers follow suit - but I won't be holding my breath.
David Wood - It's so easy for marketing to become commoditised, where financial pressures and the need for 'safe tactics' and 'guaranteed ROI' take precedence over more dynamic and, in Unilever's words, 'magic' approaches. I can't wait to see what ideas start to be applied across its brand portfolio as a result of this, and whether other brands follow suit.
Adrian Goldthorpe - This is a great message from the top and I'm sure it will be embraced in the ranks. The big question is whether the processes and role of local markets will allow this to happen.
Source: marketingmagazine.co.uk