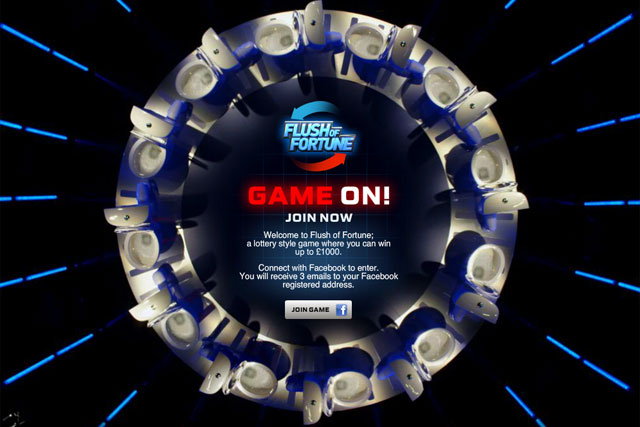 The 'Flush of Fortune' game is hosted on a dedicated site. Players can log-in with their Facebook account and their faces will appear on the roulette wheel, comprised of 12 loos.
A red ball passes around the ring of loos and the more noise the user makes about the game on Facebook the better their odds will become on the roulette wheel.
They do this by hitting the three "power ups" offered to them, which automatically share their gameplay with their friends on the social network.
The game promotes Domestos' new Extended Germ Kill bleach by explaining how it kills germs after multiple flushes.
The game starts at 6.30pm each day and ends 24-hours later, with the player whose face the ball lands on winning the cash prize.
It runs for the next three weeks and will be promoted using Facebook ads.
The game was conceived by Dom Moira and Kieron Roe, with design by James Huse and Joe Burke and production by Rachel Bishop and Pretzel Films.
Unilever appointed Lean Mean Fighting Machine as its global digital agency of record for its Domestos bleach brand in October last year, following the launch of its "flush tracker" campaign for Domestos in 2010.
Lean Mean Fighting Machine already works with Unilever on its Snuggle fabric softener brand.
Follow Sarah Shearman on Twitter @Shearmans