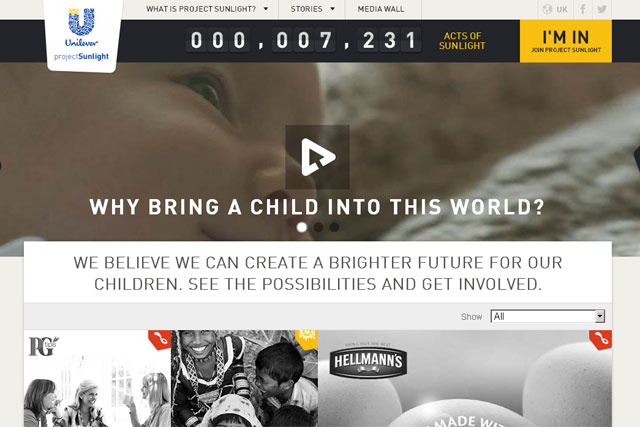 Focusing first in five core markets, 'Project Sunlight' will debut in the UK, Brazil, India, Indonesia and the US with a view to changing consumers' attitudes towards sustainability and their overall consumer behaviour.
The global work will launch primarily online. It encourages consumers to engage through a dedicated site, www.projectsunlight.com, in addition to digital and social media channels, such as Facebook, YouTube and Twitter, with the hashtag #brightfuture.
Created by Ogilvy, the long awaited corporate brand campaign will take Unilever's Sustainable Living Plan to its consumers on Universal Children's Day, working with partners Unicef, Save the Children and the World Food Programme.
The company help two million children through its existing partnerships with these charities, providing school meals, safe drinking water and improved hygiene.
Speaking to Marketing, Marc Mathieu, Unilever's senior vice president, marketing, admitted that he has been working on the project since he joined the company two and a half years ago, but claims that the whole idea has been going for Unilever's 125 year history.
Mathieu said Unilever felt there was a "hole" in its corporate communications for its sustainability objectives, and that the company wants to become an "accelerator" and an "aggregator" of a consumer sustainability movement through this new work.
"We wanted to reframe the conversation around sustainability from what has been dominated by an apocalyptic view of the future, to use technology, communication and collaboration to tackle more of the issues than ever before.
Mathieu said the idea of sunlight is part of Unilever's DNA - Sunlight soap was the first brand that founder William Lever created and was, he claimed, "a fundamentally democratic idea, which "brought something positive to the many," referencing the fundamental impact of soap and hygiene on people's lives.
He said: "We want to become an aggregator and accelerator of a movement, acting as a booster to get people to change their mindsets and behaviours. We want people to be attracted by the narrative of our brands and to buy into something that will change their lives.
"The objective is not simply to push content out to people but to listen to them too, in order to get people to engage with Unilever and its brands on a personal level."
The company has created content around the possibilities of the future, aiming to provide optimism around the message of sustainability.