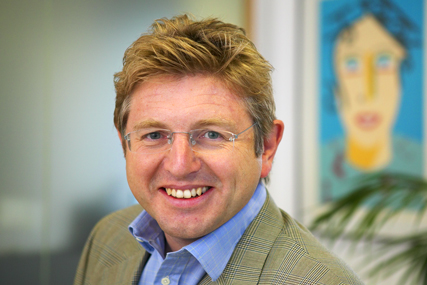 Speaking to WPP's Martin Sorrell at the 57th International Cannes Lions Ad Festival today, the man now responsible for directing the world's second largest advertiser (behind Procter & Gamble), with spend of $7.4 billion last year, was keen to stress the "multiplying effect going on of digitalisation and globalisation" on the business.

"We are in the middle of a digital revolution," he said. "Now I know everybody talks about digital right now etc etc. But the truth of the matter is, I think it is bigger than even the most stretchy visions."

Weed believes globalisation and digitalisation are "feeding off each other" to create an exponential drive in this direction.

He said: "I think now's a really exciting time to be in marketing, a really exciting time to be in advertising and communications. Anything's possible."

However, the marketing chief behind such household names as Ben & Jerry's, Dove and Vaseline, warned that the digital space continues to be a learning experience for agencies and advertisers alike.

He mused: "Digital marketing's like high school sex. Everybody's talking about it. Few people are doing it, and those that are doing it, aren't doing it very well."

Weed, who referred to predecessor Clift as "a very good friend of mine and Godfather to one of my children", admitted much of his mantra and approach to Unilever's business will be the same. However, the growing importance of digital to Unilever's global business was unequivocal.

"I will drive Unilever to be at the leading edge of digital and digital marketing," he said. "This is not because I have a love of digital. What is absolutely clear is that the consumer is spending more and more time engaging in the digital space.

"I need to be where the consumer is, but actually, more than that, I need to be ahead of the consumer so that we are there when the consumer arrives."

The investment in digital will be led on a market by market basis, with budgets reflecting the culture. In the US, for example, where people spend about 25 per cent of their time on digital engagement, budgets should "be in that order" – although he declined to say how much Unilever spends at the moment.

In addition to a country's digital engagement, he said marketers need to really hone in on the category-specific insights behind particular brands.

Yet Weed ruled out digital marketing's ability to replace traditional media and research.

Despite Unilever's recent Pepperami digital campaign, which used consumer-generated ideas rather than an agency's, the chief marketer said this was more the case of turning to social media to "pilot and test things".

He added: "In general I'm not going to use crowd-sourcing as a substitute, with the exception of Pepperami."

But Weed dismissed the idea that digital will replace television as a marketing tool. He said: "TV is, and always will be in my lifetime, a vast part of what we do.

"We're a mass marketer. So we want to get to many, many people. And the best way of getting through to mass audiences is through television, I say television, I mean video – the moving picture, is not going to die… it's here to stay as far as I'm concerned."

Instead, Weed perceives digital's role more as an enabler of one-to-one, personal relationships. The ability of social networks to allow consumers to engage and build the personality of brands was said to be something traditional media simple cannot do.

He cited Unilever's ice-cream brand Ben & Jerry's Facebook page, which has more than a million fans, and noted: "There are pop stars who would die to have a million fans."

Unilever was named Cannes 'Advertiser of the Year' and CMO Weed had one clear message for marketing students looking to get into the industry, "do it".
Read also on Brand Republic's digital blog The Wall
P&G marketing admits he has to "deal with" power of Facebook