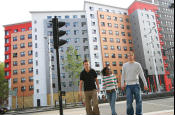 Following an internal review, Unite has unveiled plans to appoint three agencies by September to support creative, digital and consumer PR needs for its 2009/10 brand awareness and sales campaign. It is adopting a roster of marketing agencies having previously used full-service shops.
Nathan Goddard, sales and marketing director at Unite, said: 'Following an internal review of our agency needs, we are excited about bringing three agencies into the mix to support our brand awareness and sales activity.'
Unite houses some 38,000 students in 30 cities across the UK. The company has several affiliate marketing partners, including Domino's Pizza, Play.com, Endsleigh Insurance and STA Travel.