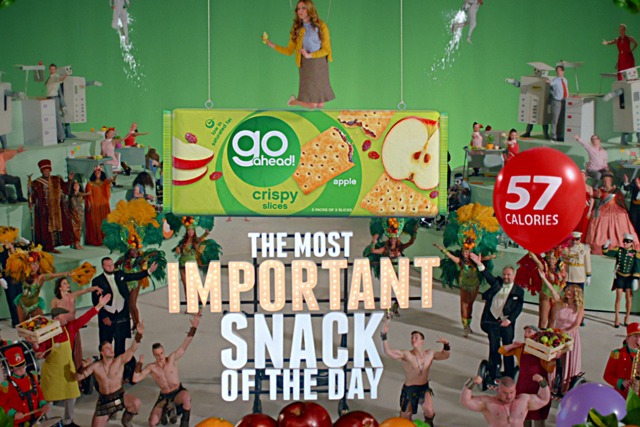 United Biscuit's marketing push for Go Ahead follows on from the re-launch of the McVitie's and Jacob's brands as the company shifts from "functional" to "emotionally-based advertising", which chief executive Martin Glenn credits with an uplift in sales.
The Go Ahead ad, created by Grey London, launches today and was shot using the one-shot technique, from the perspective of a single camera in one long take.
United Biscuits hopes to "emulate the fruity, feel-good snacking moment" provided by Go Ahead products. The TV ad features Rio dancers, muscle men, drummers and dancing photocopiers.
Sarah Heynen, marketing director of sweet biscuits at United Biscuits, said: "Healthier biscuits is the biggest biscuit segment accounting for over a fifth of all biscuits sales, making it a very important part of a retailer's fixture.
"Biscuits are already an intrinsic part of our daily lives, but we know there is a huge opportunity to grow the healthier biscuit category even further by adding more excitement into the segment."
The ad campaign runs until 31 August and will be supported by the company's biggest ever in-store, PR, press and online marketing campaign.