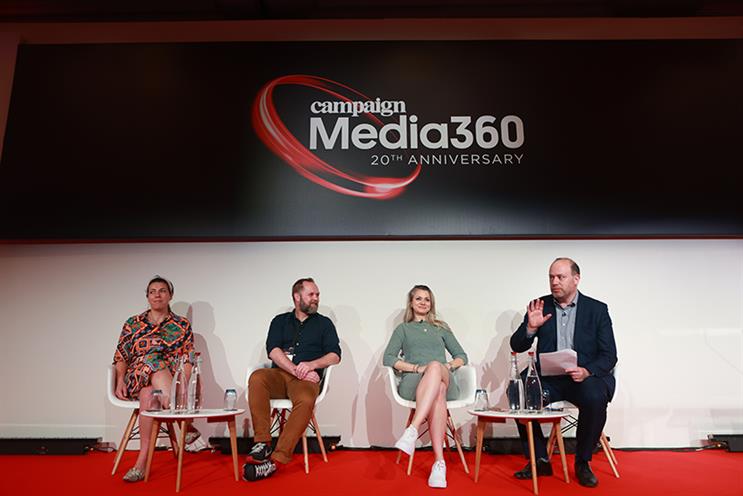 Brand and performance must work hand-in-hand to engage consumers in a difficult economic climate, attendees at the Campaign Media360 conference were told by a panel of industry experts.
In an upbeat discussion, panellists were positive about riding the cost-of-living wave, citing their faith in consumer resilience as a reason to be optimistic.
"Like everybody else, we've learned that people are spending less," said Olya Dyachuk, data driven media director at Heineken UK. "However, in our category, they still want quality products and to have an 'experience' when they go out."
Geoff de Burca, chief strategy officer at EssenceMedia.com, agreed: "What strikes me is how resilient the UK is. I've been glued to theYouGov mood data since the start of Covid, and it's fascinating that whenever a new crisis emerges, there's a big dip in mood straight away, but people bounce back really quickly."
Convince your CFO to invest in brands
Our experts agreed that, despite rising costs for businesses, which can impact marketing budgets, there is a need for greater investment in brands to secure their future success.
According toJennifer Mayer, head of media and partnerships Europe at Ford, it's important to think about long-term investment as well as short-term sales. Ford is undergoing a huge brand transformation, moving towards a 100% electric fleet. "With a new electric vehicle launching every 10 days in Europe, it's super-important to be out there telling our story," she said. "It's about balance – performance media is focused on our petrol vehicles and ensuring those are continuing to move, but we are sending an electric vehicle around the world for the very first time, and telling some really great stories. That's how you win brand love in the future."
De Burca emphasised the importance of talking to senior leadership about long-term branding: "We need to be more sophisticated at proving the value of advertising to our financial colleagues, and better at using different types of data to understand how to better reach different target groups."
Think about what works for your brand
The amount of money and effort that goes into either branding or performance depends on the job to be done, said Dyachuk. Heineken recently unveiled a radical new look for its cider brand Strongbow, supported by a £20m spend.
"We wanted to revitalise the drink with a massive campaign and rebrand," said Dyachuk. "It started with traditional out-of-home ads and festivals. At the same time, we managed to include a performance element, working with customers like Tesco, to help people to buy and convert more easily."
"We have a portfolio strategy for performance as well, and that created the biggest difference. Convincing leadership to give you brand budgets in one pot – and letting you decide where to spend it – works brilliantly well," she said.
Repositioning your brand and performance activity to help customers through the cost-of-living crisis can also be successful – if you get your value proposition right.
"It's not enough to just be doing performance activity at a time like this," said de Burca. "You can show up to help consumers, or distract them with great content and bring joy to the nation." For example, Tesco's recent drive to help customers 'spend less' in its supermarkets was in direct response to inflated food prices.
Creative analytics will inform future campaigns
Finding the right data can be the biggest challenge, according to Mayer: "It's about seeking out the right data to inform the decision-making," she said.
Revisiting campaigns and looking at successes and failures is also essential to refining the process. "We'll look at how far along people are getting into our ad," said Mayer. "And if there is a drop-off after 17 seconds, we'll go back to the agency and ask why, so those insights can be used next time."
Making more evidence-based creative decisions will be an essential skill for marketers to master in the future. "We've done some fascinating work around creative analytics, using performance data and machine learning to understand the creative contribution to a campaign's success, which we can then share with our partners to develop more effective content," said de Burca.
The panel was unanimous that brands that develop this ability to unify creativity with data and performance will be the ones who shine through the current economic gloom. "There are different skillsets, metrics, and tactics you might use in brand and performance activity, but to deliver breakthrough growth right now you must take a full funnel approach," said de Burca. "Organisations that bring the two together can spend more money at difficult times, because the improved results will satisfy the CFO that it's the right thing to do."
Key takeaways
Brand and performance must work together to engage consumers in uncertain economic times.
Despite rising operational costs, greater investment in brands is necessary for future success.
The amount of money invested in either branding or performance depends on your goals.
Balancing long-term brand investment with short-term sales is crucial.
Finding the right data and using creative analytics are essential for informed decision-making.
Organisational alignment between brand and performance allows for more confident investment decisions.