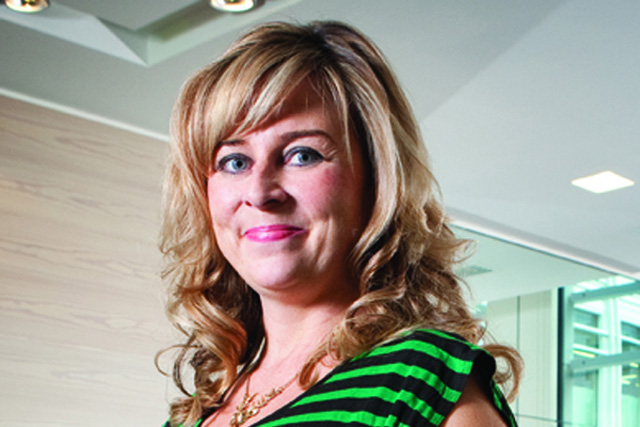 I also love the intensity of the entertainment industry. For us in "ents", Christmas is not for the faint-hearted. With a hefty chunk of our industry's annual profit being generated in just a few short months, it is both highly pressured and relentless in terms of the sheer amount of product we release. December saw the roll-out of more than 10 different stand-up comedy titles on one day and we followed that with the biggest movies of the year, Despicable Me 2 and The World's End, on DVD and Blu-ray.
But I shouldn't grumble. This is also an industry where we get to do some really cool stuff. In December, I attended a special screening of The World's End followed by a Q&A with Simon Pegg and the director Edgar Wright. Thoroughly indulging my inner (and often outer) geek, it was fascinating to hear their insights and banter.
The same day, we had just shot one of our Christmas ads with Edgar to help keep our creative fresh and engaging. Our Christmas campaign, with black-and-white pieces to camera celebrating the DVD as the perfect Christmas gift, embodied what I am a passionate believer in: creating marketing that is different and surprising. Times are tough everywhere and you've just got to be brave and keep trying new things.
Times are tough everywhere and you've just got to be brave and keep trying new things.
This was also one of the big themes from last year's Marketing Society Annual Conference – lots of great discussion and debate about how to create and encourage great ideas in business. As usual, there was a fantastic line-up of speakers. I particularly enjoyed fellow Scouser Sir Terry Leahy's articulation of creativity: "Creativity is about seeing opportunities that others don't, through a different lens." This is, of course, crucial. But the key requirement is how to drive and systematise that approach and to continue to have the confidence and bravery in driving through what you are passionate about and believe in.
Two worlds then collided for me, when Richard Curtis, the director and Comic Relief founder, compared the creative process to being in "the heat of battle". Richard has written and directed many films for Universal Pictures – in fact, we're releasing his latest film, About Time, early this year, an absolutely beautiful movie about family and especially about fathers and sons, which had me in floods at the end.
I had also seen Richard speak a few weeks earlier at our twice-yearly sales and marketing conference, where all the international marketing and sales heads meet up to share our thinking and plans for the coming year. We also get some previews of upcoming content, so I am loving what we have seen so far of the new Seth McFarlane movie, A Million Ways to Die in the West, as well as the new Scorsese/DiCaprio outing, The Wolf of Wall Street. Both look awesome.
Reflecting on this article, it really does remind me how lucky I am to get to work with such incredible content from some of the most creative minds in the world. I derive a lot of my energy and happiness in my job from the team I work with – they challenge me and make me smile every day. At a recent team away-day, one of the key themes was again about being brave and being proud of what we do.
This sense of purpose helps serve as a beacon during stressful or challenging times. We are fortunate enough to be part of a business that has entertained and delighted people for more than 100 years, and the fact that we get to play our part in that storytelling gets us out of bed every day.
The entrepreneur Doug Hall closed The Marketing Society Conference with a cracking thought with which I'll conclude: "The secret [antidote] to exhaustion is not rest. The secret to exhaustion is meaningfulness." So very true.