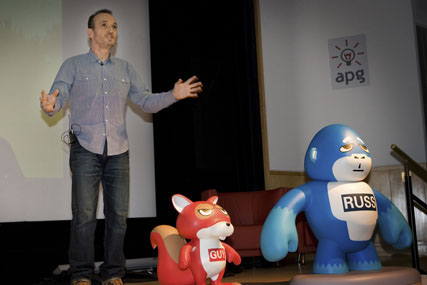 On Thursday 25th November, at the British Library, a Clash of the Titans took place. The APG's Annual Battle of Big Thinking, staged by Campaign and sponsored by Aol, has a format in which speakers battle it out to come up with the most provocative thoughts based on 15-minute presentations leading into an audience vote. The format this year, the fifth Battle, was different to previous years. The entrants were those selected from the winners of previous battles. Campaign invited Gordon Torr to review the day from a delegate's perspective:
Have you seen what's happening out there? Have you even bothered to look? Clash of the Titans, Warner Bros., 2010
Is it just me or did last Thursday's Battle of Big Thinking feel as though it was more about big battling than about big thinking? Or less about being clever than about being clever about being clever?
Organised by Campaign on behalf of the APG, this year's event pitched the winners of the previous five BoBTs against one another, hence the epic title. In an industry as famously fickle as ours the idea of asking the speakers to re-present their original thinking (which most of them elected to do) or to present new thinking set up the fascinating prospect, and the very worthy challenge, of sorting out the failed fashionistas from the true futurists once and for all.
Like professional footballers at the end of a long season turning up to play an exhibition match, say, Corinthians v Barcelona on a Tuesday night in Qatar, the speakers turned up to dazzle, not to dig in. So there was plenty of fancy footwork, but not much in the way of bone-crunching passion. The closest we came to gladiatorial blood-letting was the tiff in the bar afterwards when Jeremy Bullmore took Robin Wight very publicly to task for brazenly ignoring Stephen King's role in the development of the planning discipline. You had to be there.
Of course, the planner's remit is as broad and varied as life itself, and there's no good reason to spoil a fun day out at the British Library by taking anything too seriously. But it did mean that speakers who had something important to say were made to look rather silly by those who admitted with charming self-deprecation that they had nothing important to say, thereby inviting us to lean back and simply enjoy the ride, a strategy that acknowledged the wisdom of Daniel Kahneman's observation, tellingly quoted by Chris Forrest, that "we are to thinking as cats are to swimming – we can do it if we have to, but we don't particularly like it".
It became clear from the first few rounds that that eventual winner would emerge by default from among those speakers who a) skillfully refrained from saying anything as though they actually meant it, b) avoided mentioning the word digital, and c) correctly gauged the audience's lack of appetite for the strident, the contentious and the polemical. It wasn't about choosing the right topic; it was about choosing the right tone.
So the sincerity of London 2012 marketing director Greg Nugent's measured reminder of the principles of the Rochdale Pioneers as a model for 21st century business didn't stand a chance against David Hackworthy's deliciously seditious petition for more sex and death in brand genetics. Claus Moseholm, sandwiched between them, was doomed from the moment he was introduced as co-founder of goviral, and it looked as though he knew it.
Angie Moxham of 3 Monkeys didn't show, so Session Two was a straight fight between Fru Hazlitt of ITV and Ivan Pollard of Naked. A year or two ago Hazlitt's plangent invocation of the power of "Big & Live", i.e. the "shared experience" of TV as a "mass aggregator", especially in the form of , say, X Factor, would have had the digerati storming the stage. It was rousing and convincing, but much too late, coming across, in the end, as little more than a reminder to watch ITV's coverage of the forthcoming royal wedding. Defensive, in other words, when we all know now that big and live can exist quite happily alongside intimate and virtual. Pollard, by contrast, settled for a joke about a newt and a charming story, set in the future, about a rugby team in a pub after a match forming a "pop-up consumer co-operative" to negotiate the price of their beer.
Derek Day and Helen Edwards of Passionbrand won their round by subverting the discourse itself, as they usually do, arguing with the clinical intellectual precision that is the hallmark of the Day-Edwards partnership that we're all spending far too much time worrying about communication and not nearly enough time worrying about the things that clients worry about, like pricing, distribution, service delivery and gondola ends, a sober and chastening fifteen minutes that made Jeremy Ettinghausen's hilarious description of his first 39 days at BBH (like ducks swimming upside-down, i.e. all action on the surface with not much happening underneath) seem trivial by comparison, and Robin Wight of Engine, who was still trying to save advertising from something, sound much too loud.
Another client, in the form of Ian Armstrong of Honda, scared us witless with a story about wiring up Honda salesmen and Honda customers in an attempt to monitor their telic and para-telic reactions during the sales pitch. Chris Forrest of The Nursery got the topic right – "looking deeply into the surface of things" – but was no match for the admirable James Mitchell (BBH), last year's winner of the three minute "open mic" session, who is clearly someone to watch, and not only because he is so damn young. His case for telling brand stories that reflect "the full spectrum of life's fortunes and misfortunes" (as opposed to the "endless climaxes" of traditional brand advertising) was as touching as it was salutary.
If the number of pages of my notes per speaker had been anything to go by, Les Binet of DDB Matrix would have been the clear winner on the day. His analysis of "System One" meta-communications that trust creative intuition to invent brand "reverberations", as opposed to the rational messaging of "System Two", strikes at the heart of the planner's traditional role in advertising development, raising all sorts of Very Big Enduring Questions that no one in the audience appeared to be in the mood for. His opponent, Mark Cridge of Glue Isobar, tried to get us to think even harder, and that was the end of him.
I loved John V. Willshire's description of how everyone at PHD was involved in making something, arbitrary projects that had little or no commercial application, and I wished he'd gone on to make the point that I've been trying to make for some time, i.e. that you can't get the best out of creative people unless you truly understand the terror of the blank page. David Golding of Adam & Eve told us that brands didn't need ideas, by which he seemed to mean slogans associated with company logos. And if Les Binet was my personal pick for best content, Peter Sells of BBH (again) was my personal pick for delivery of the day. Drier than a Namibian shiraz, Sells should go straight to stand-up. His wonderfully reductionist summary of the end-game of the all our intellectual effort – "Ooh, I like this one!" – is clearly wasted in an industry that is so serious about not taking itself seriously.
Then the big one, Ogilvy's Russell Davies v JWT's Guy Murphy, for the champion of champions. Davies was brilliant, Murphy was brilliant. Davies was self-deprecating, Murphy was even more self-deprecating. Davies had a toy helicopter, but Murphy had a toy in the shape of Russell Davies. Davies argued that our business was to create platforms that allowed people to express themselves. Murphy avoided arguing about anything. Davies had a profound post-digital line, "We have broken your businesses; now we want your machines". Murphy had us throw juggling balls at the stage. Murphy won.
Later I found myself in conversation with the most senior person there, in the venerable form of Jeremy Bullmore, and the most junior person there, the exceptional James Mitchell. Bullmore said to Mitchell, "I hope you don't regard the outcome of today as an example worth following." Mitchell wisely said nothing.
Epic.
Spyros: One day, somebody's gonna have to make a stand. One day, somebody's gonna have to say, "Enough!" Clash of the Titans, Warner Bros., 2010
Gordon Torr is director of planning at Langland and the author of Managing Creative People, Wiley 2008. The winning sessions can be purchased at http://www.bobtvideos.com