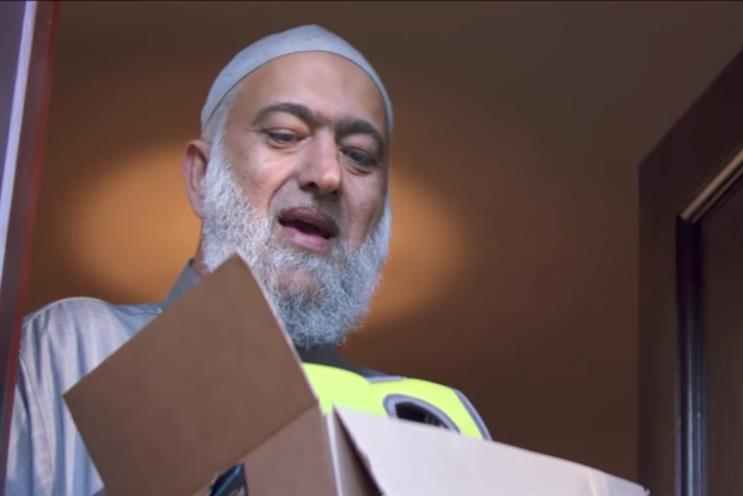 The retail brand's ad "Priest and Imam", created by Joint, has topped Unruly's Xmas Ad Effectiveness Chart, which uses a combined metric called an EQ Score, to rank ads on their likely emotional, social and business impact.
Amazon's ad, which features a priest and an imam exchanging gifts, finished top after scoring the highest for authenticity (90%), relatability (86%), brand recall (86%), credibility (91%) and encouraging people to find out more (43%).
It also scored highly for brand favourability (36%), purchase intent (38%), and also packed a real emotional punch, with almost a quarter of viewers feeling intense feelings of warmth (24%) and happiness (22%).
Amazon finished at the top with 6.3 out of 10 - ahead of Marks & Spencer's "Mrs Claus" in second spot (6.2).
Despite attracting the most online shares of any ad last year (2.02 million), John Lewis's "#BusterTheBoxer" was in joint-third with a score of 6.1 alongside Waitrose's "#HomeForChristmas".
---
Top 10 - Unruly Ad Effectiveness Chart: Xmas Edition (to see all the metrics, click here).
10. H&M: "Come Together" - 5.4
8 (tie). Temptations: "Keep Them Busy" - 5.7
8 (tie). Burberry: "Thomas Burberry" - 5.7
6 (tie). Sainsbury's: "The Greatest Gift" - 5.8
6 (tie). Aldi: "Kevin The Carrot" - 5.8
5. Heathrow Airport: "Come Home For Xmas" - 5.9
3 (tie). Waitrose: "#HomeForChristmas" - 6.1
3 (tie). John Lewis: "#BusterTheBoxer" - 6.1
2. M&S: "Mrs Claus" - 6.2
1. Amazon: "Priest and Imam" - 6.3