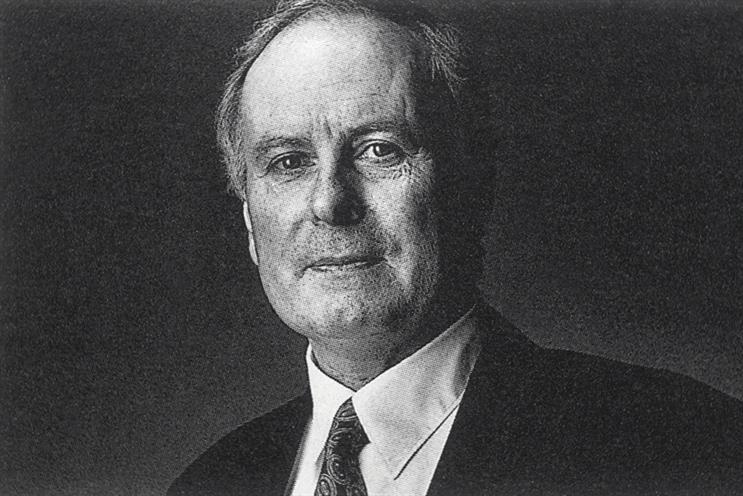 The olive oil that spreads across the black pan reflecting the Sainsbury's logo on the pouring bottle. The stem of the plum that points to the first line of the copy. The Economist 48-sheet that is the exact proportion of the masthead of the pub­lication. The mountain of dead dogs too ghastly to look directly at.
Ron Brown: the man who put the art into art direction.
A couple of decades before Steve Jobs started making money out of pairing beautiful design with perfect function, Ron was sitting quietly in an office in London showing the world how it was done.
There's a lovely photograph from the very early days of Abbott Mead Vickers. David Abbott and Ron making their own tea from a grim-looking janitor's sink, complete with nearby mop. You almost forget, now the agency has been the biggest in the country for 20 years, that once AMV was just David Abbott, Peter Mead and Adrian Vickers. And Ron. In fact, Ron gets forgotten a fair bit in that story. Not hard to understand. The founders were all rock stars. All gods. The credit stuck to them as it should.
And the quiet, modest, egoless man in the corner who made everything look utter perfection sought no credit for creating the unstoppable force that became Britain's best-ever agency.
So, if we may, we'd like to make damn sure he gets some credit now. Now he's not here to say: "Don't make a fuss, boys."
No Ron, no AMV. Simple as that. Remember French Gold Abbott? Not many people do. Byfield Mead & Partners had two AMV founders kicking around in it. But let's just say it wasn't exactly the Bartle Bogle Hegarty of its day. No doubt that when the com­mercial poetry of David, the street-fighter nous of Peter and the effortless charm of Adrian got together, there was inevitably going to be success, money, salesmanship – and a fair amount of expensively coiffured white hair.
Brown: his work included the RSPCA (above) and The Economist
But we think, without Ron, there would have been no Sainsbury's, no Volvo, no RSPCA, no BT. At least, not the way you remember them. Not the way that they kept coming, decade after decade.
A campaign only endures when someone glues all the money together. Ron made every ad look different, every ad look new. And yet he made every ad you saw remind you of the last time you felt compelled to buy your food from an upscale supermarket. Drive to it in a strange girder on wheels. Be careful not to clip a dog on the way. And phone your mother to tell her about it when you got home. You couldn't help yourself. Ron and David made you.
In an age when print was the internet, when posters were social media, Ron was the Mark Zuckerberg and Bill Gates of advertising. Neil Godfrey was pretty good, John Hegarty could scribble up a fair layout.
But they've already got all the plaudits that are coming to them. Let someone else big them up. God has got greedy this last year. He is gathering the AMV creative greats to him. Maybe he has got something important to sell. Maybe he wants it to look good because his job is on the line. Anyhow, it's time to worship Ron for a change.
This is what he was like…
Ron was the paraplegic ping-pong champion. In those early days, when things were quiet, David and Ron would play table tennis across their desk while remaining in their wheelie office chairs. It's not an Olympic sport yet, but it should be.
Ron drove enormous Aston Martins without ever looking the least bit like James Bond. Not ever. He was never a show-off. He just had to drive the most beautiful object going. And, in those days, that was a blue Aston Martin.
Ron loved his wife and kids. It seems an odd claim to make so early in a list of reasons why he was special, doesn't it? Don't we all love our partners and kids? But, like everything else about the man, there was something unique about the way he would natter quietly on about Linda's nurturing genius, the latest instrument Tara had mastered, the exam successes, the never-missed school plays. We'd sit at the back of some shoot with him and maybe, to our shame, roll our eyes a bit at these tales of domestic bliss. But something important must have rubbed off. Because we both married our childhood sweethearts, stayed married to them in an industry where that's not always fashionable and raised our kids like Ron did. With endless love and joy in the smallest of their achievements. He was a role model in more than the fine arts of kerning and cropping.
Ron made the product look good. (He hated the dismissive term "pack shot".) Ron set the look and we all followed it forever. Never daring or wanting to change it. Ron made the headline big. (Are you listening, Paul Belford?) Because he knew he was working with the best headlines in the world. Ron put the client's name front and centre. No tiny logos for him.
Ron was a salesman. Ron was a gentleman. Ron was a leader. Ron was an obsessive. Ron was a friend. Ron was a laugh. Ron was a hero. Ron was an angel. Is an angel now, we reckon.

Paul Brazier is the chairman and chief creative officer of Abbott Mead Vickers BBDO. Peter Souter is the chairman and chief creative officer of TBWA UK