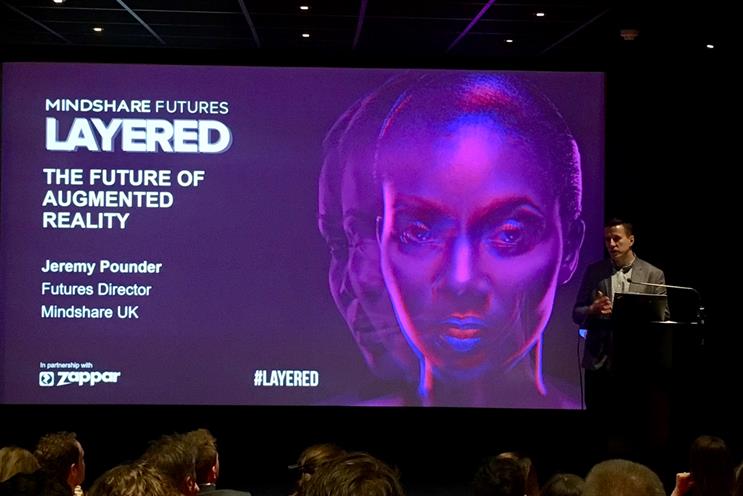 The report, Layered, identifies how brands must adapt to the rise of augmented reality.
"Apple and Google regard AR as the rise of the immersive computing," Jeremy Pounder, futures director at Mindshare UK said at the report's event this morning.
While often linked, AR and VR should be thought about differently, Pounder continued. "AR can bring any information you want to you, whereas VR can bring you to different worlds. Our sense is that in the short to medium term AR will be the one most likely to scale. Mostly because Google and Apple have both instituted developer infrastructures, such as ARKit and ARCore. It has scale, thanks to the proliferation of advanced smartphones and consumers are ready for it."
For the report, Mindshare and Zappar used several methodologies from January to April 2018 to reach its conclusions. This includes an online quantitative study, which surveyed over 1,000 UK smartphone owners aged over 18-years.
The researchers also used steady-state topography (SST) brain imaging technology tests with over 150 smartphone users aged between 16 and 65 to measure how the brain the responds to AR technology across a series of AR activities. These were compared to the same activity carried out through 'non-AR' experiences. This was conducted in partnership with Neuro-Insight
The results of these methods were combined with online self-ethnography diaries from 30 UK smartphone users which recorded their own individual behaviours and attitudes during a series of AR experiences and tasks. Co-creation workshops to explore how AR can address consumer needs as well as in-depth interviews with AR experts across a range of sectors.
The report found that a third of consumers believe AR would be helpful in making shopping choices. They are also increasingly expecting products and other physical objects to contain additional layers of digital content or information.
In fact, 55% want to be able to point their phone at any object and receive information about it, rising to 74% among those who have already experienced AR.
Already consumers are anticipating the potential of AR smart glasses. Over a quarter (26%) of consumers would prefer to experience AR hands-free through smart glasses than through their mobile phone.
From the Neuro-Insight powered part of the study, the researchers found that AR experiences generate almost double (1.9 times) the levels of engagement amongst consumers compared to their non-AR equivalent.
These findings emphasise that it's time for AR to move beyond fun, incidental activations, Pounder said.
"To date, AR has largely been used to give people a small dose of in-the-moment fun – Snap's dancing hotdog and Pokémon Go epitomise this. Our research shows that AR will evolve from one-off 'surprise and delight' moments to provide everyday utility and practical value, right across the consumer journey. This could include helping people visualise how products look in their home, locating products in-store through wayfinding applications, or getting more out of a product post-purchase through usage guidance," he said.
Study respondents identified a range of currently unfulfilled areas where AR could provide everyday utility, including going to the gym, house buying, on-pack information and DIY tasks.
From its research, the report identified three more trends that will shape how consumers embrace augmented reality:
Layering
People will start to expect the physical surfaces around them to be embedded with additional layers of interactive content, the report found. Brands should be thinking about adding extra layers of content to their owned assets. For example:
They could turn product packaging into a fully immersive experience, such as this partnership between Glenlivet and Shazam (pictured, above);
If they already have an app with a substantial user base they can amplify the in-app experience through AR;
For bricks and mortar retailers, the in-store environment provides a varied canvas for delivering engagement experiences or customer service through AR.
Surfacing
The goal for brands should be to use AR to enable proactive "surfacing" of personalised, contextual content without the user initiating it. Over two-thirds (68%) of AR users believe AR would be most useful if it "can figure out the right information to show me at the right time all by itself".
As part of the study's neuroscience experiment, it found that the part of the brain responsible for memory encoding sees almost three times (2.9 times) the level of activity when using AR versus carrying out the same task without AR. This indicates that AR may be a particularly powerful way to deliver information that is subsequently retained.
One of the key drivers for content surfacing will be computer vision (machine learning-based image recognition) such as Google Lens. As this technology advances, cameras will be capable of "reading" the environment and making decisions about what content to share with the user. AR glasses will allow the concept of content surfacing to fully develop.
Brands will need to optimise their content for computer vision, ensuring that when Google Lens identifies their product the content that is surfaced is the most relevant for the consumer, suggested the report.
Flowing
In the next five to 10 years, the report's writers expect a new form of AR glasses to emerge which will enable an always-on scanning of the environment, identifying objects and overlaying related content.
Already, over 25% of people prefer AR glasses over the mobile phone screen for wayfinding, 'how-to' and 'try before you buy' experiences. This preference is even stronger amongst people who have already experienced AR.
Regardless of how quickly AR glasses hit the mass market, it's expected that the technology will play a wider role in the consumer journey with 33% of respondents believing AR can help narrow down retail purchase decisions. While AR is currently mostly used for "evaluation" or "post-purchase" stages, there is great opportunity for it to facilitate direct purchase, the report said.