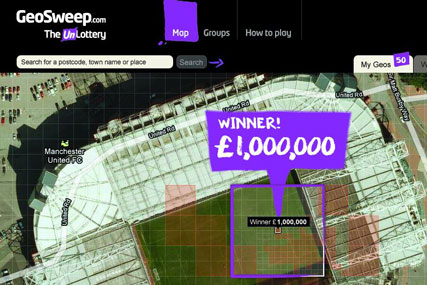 Geo-location game Geosweep, is targeting brands and media owners, in a bid to position itself as a rival to the National Lottery.
The game, which launches on October 10, has been developed using Google maps and allows users to 'buy' locations on a map of the UK. Each location, called a 'geo' can be the user's house, a tourist destination or a place of personal interest.
The locations cost 10 pence and everyday one is selected at random to win £1 million. Geosweep claims that the odds of winning are 223% higher than the National Lottery.
Geosweep has hired former head of marketing at News International, Kieran Moran, to lead the £1.5m marketing push.
Kieran Moran said the opportunities for brands, such as Tesco and Asda, to get involved with the game are "huge" as they could offer location specific deals and vouchers.
Geosweep is currently talking with media owners about the product's capabilities to target markets on a local scale.
"With regional press readership is anonymous and it's difficult to know who is buying the paper. However the localised data means advertisers can target communities more effectively," Moran said.
He said that Geosweep is also talking to two major TV broadcasters about creating content piece in the form of a quiz show.
It has appointed the agency MultiAdaptor to manage its brand identity and launch campaign, Total Media to handle buying and planning and Duke and Earl for its creative and production.
The launch follows news that the Camelot Group, the parent company of the National Lottery, attracted more new online visitors than any other company over the past year.
According to the UK Online Measurement (UKOM) company the number of Britons visiting Camelot websites increased by 4.4 million to 9.4 million over the past year.
Its recent online display ad campaign in July 2010 for the National Lottery Euromillions draw attracted 4.1 million new users to its site in one month, which is more than Facebook gained in the entire year.
Last month, Facebook entered the geo-location gaming market with the long-awaited launch of its Facebook Places app in the US. Since then Facebook has said it will be considering working with marketers and number of agencies have confirmed they are already in discussions with advertisers about the potential opportunities.