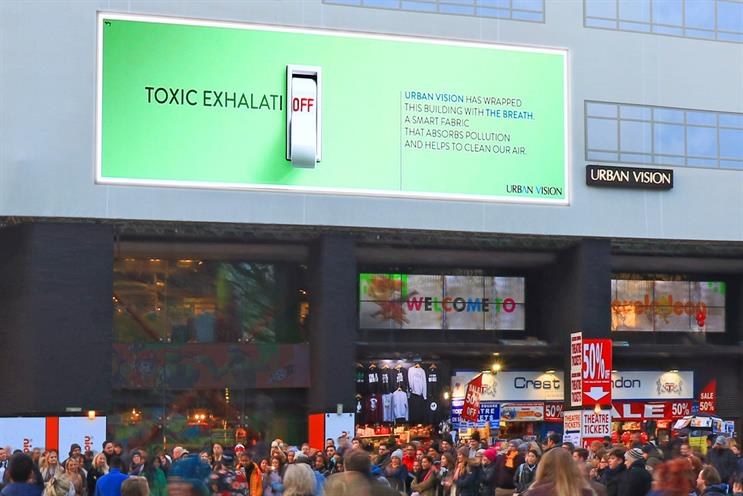 The billboards are made of a material called 'The Breath', developed by Anemotech. According to its inventors, the material uses a series of nano-molecules that remove harmful pollutants such as nitrous oxides, sulphur oxides and particulates within a 25-square metre vicinity.
The inventors claim that 250-square metres of the material is capable of removing the pollution generated from more than 750,000 unleaded vehicles and 300,000 diesel cars over a one-year period.
The billboard located in Shepherd's Bush, for example, is capable of absorbing the pollution generated by 124,670 cars, over a six-month period.
The material can be used for both indoor and outdoor purposes, including for office workstations, classrooms and public advertising spaces and needs to be changed every six months on average.
The partnership between Urban Vision and Anemotech will see The Breath billboards on all of Urban Vision's new sites in the Italy and the UK, Gianluca de Marchi, global president at Urban Vision explained. "By July 2018, will have installed a total of 30,000 square metres of The Breath, which will be capable of absorbing pollutants generated by 14 million cars," he added.
In the UK, the goal is to have eight sites installed by the end of the year.
Urban Vision will install The Breath posters at no extra cost to its clients, de Marchi said. "We believe everyone has to step up and do their bit to preserve the environment. It's now our turn to deliver sustainable OOH installations thanks to the partnership with Anemotech."
As part of the partnership, Urban Vision will also function as a retailer for the material. "We are looking forward to install The Breath on sites hoardings, street furniture, and anywhere in the outdoor, retaining exclusivity for the advertising sites," de Marchi explained. "We have also developed a system to install it on digital billboards."