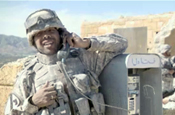 African Americans are not only paid less than their white counterparts but are significantly under-represented in the ad industry, a new study has claimed.

It was commissioned by the civil rights law firm Mehri & Skalet, which has indicated it may join with the National Association for the Advancement of Colored People in a class action suit against the industry.

The study suggests that US agencies do not just have a diversity problem but operate "a culture in which deeply embedded racial bias, both conscious and unconscious, creates systematic barriers to inclusion".

It finds that black college graduates in advertising earn 80 cents for every dollar earned by white staffers.

Moreover, only 10 per cent of them are as likely to have a job with annual salary of more than $100,000.

The report also claims that agencies fall well short of the 9.6 per cent of black staff they should be employing to remain line with the ethnic breakdown of the US population.

Nancy Hill, the chief executive of the American Association of Advertising Agencies, said: "The numbers speak for themselves."

The US findings come as the IPA steps up its efforts to draw more people from ethnic minorities into the UK industry. Currently just over 2 per cent of agency staff are Asian and 1.7 per cent are black.

However, IPA executives say the situation the US in very different to that of the UK, where agencies find it hard to attract talented people from ethnic minorities, particularly Asians, who are more attracted to medicine, the law and accountancy.