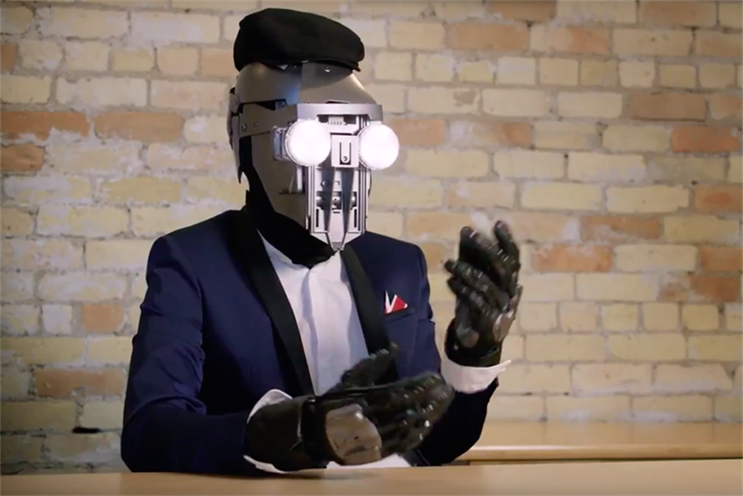 Header bidding ad-tech provider Sonobi has launched a UK-targeted campaign that parodies the bad practices and lack of honesty that are rife in programmatic advertising.
Sonobi claims that Bro-bot "Bryn Bottenfeld, CEO and Chief Disruptor" at fictional ad-tech firm Adifibly is well-known in the US and is being introduced to the UK following a series of major client wins for Sonobi in the market, including Guardian Media Group.
The film series, which starts with "Beware of the Yank" (featured above), was created by agency White Lightning + The Judge's Son (WLxJS). It is a follow-up to Sonobi's Beware of the Bro-bots campaign that debuted in the US last September.
"Beware of the Yank" is aimed at reinforcing the idea that technology should help the industry, not just profiteer from it. In the nearly nine-minute-long film, Bro-bot Bottenfeld is expanding Adifibly to the UK with the need to sell "vaporware" in a bid to syphon more media spend away, keeping the business afloat and disrupting the advertising business.
"This campaign will say to the market, 'We get it.' We understand what clients are going through and what they think of the industry," Gareth Holmes, managing director, EMEA at Sonobi, said. "The series of short films is our way of saying we know what has come before us and we are not happy to settle for the status quo."
The ad-tech sector is filled with terrible marketing, John Donahue, chief product and marketing officer at Sonobi, commented. "For us, we hope agencies, brands and publishers that see this film have a greater connection to Sonobi, because of the empathy we feel for them in a world of snake oil salesman, dishonesty and bullshit lingo."
"Beware of the Yank" ads will run on YouTube, Twitter, Facebook and LinkedIn as well as JetStream's viewable display and video.