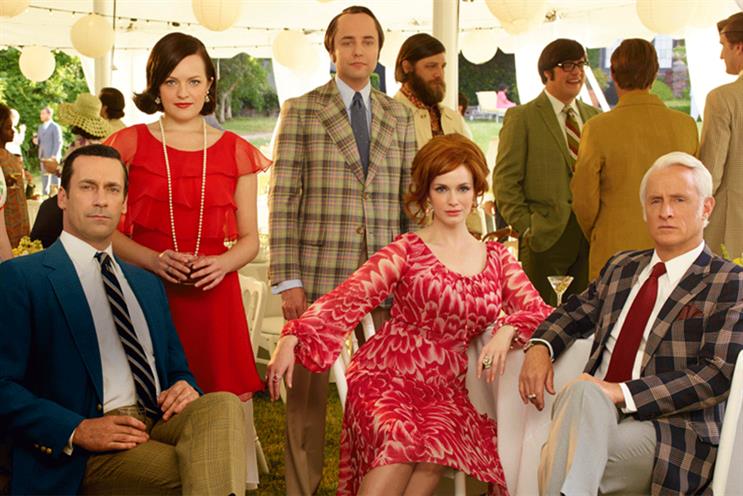 The rise of women in agencies
My grandmother was a typist in the 1940s. She married my grandfather when she was 22, had my father a few years later and boom, that was the end of her career.
My granny is a firecracker – a classic case of a woman who, if born today, would lead a very different life.
In contrast, my mother's generation, during the bra-burning 60s and early 70s, helped fundamentally shift the amount of opportunities for women.
They made it feel like it was an attainable goal to ascend from being a secretary into a bigger, more influential post in the business world. Their daughters and generations behind them are now lapping up those opportunities in spades.
It's hard to not have enormous respect for someone like Jane Mass, the famed ad woman and closest thing to a real life Peggy Olsen.
Not because she was a female who "made it" in a man's world but because, when you hear her or anyone speak about her, she found success through breakthrough work and immense career passion.
Her "I Love NY" campaign is legendary. It was open-minded, progressive men like David Ogilvy who spotted her talent and gave her the opportunity to shine. They didn't do it because she was a woman, they did it because her creative genius would make the agency more successful. It was a smart business decision.
Jane Mass may have paved the way for future female creative leaders, but the journey's certainly not over.
Droga's #NotThere work for the Clinton Foundation made that crystal clear in March by pointing out that the pay gap for equal roles is still far too big. Women who work in agencies know they must mentor one another and continue to support smart talented people as equals, regardless of gender.
I have immense respect for the efforts of Kat Gordon and The 3% Conference to boost representation of female creative leaders. But we also need to be sensitive that what's right for one businesswoman isn't always right for another. I believe in "lean in" but also support "lean out" (male or female). This new era of respected choice is what will hopefully redefine our perception of equality.
In today's world, ad women have grown up with comparatively fewer obstacles. But just like Jane Mass, we can't expect special treatment because we are women. We should only expect special treatment if we are uniquely great at what we do.
Fortunately, there are many women today in adland who are. There's Sarah Thompson, Droga5's Global CEO and Sophie Kelly at The Barbarian Group. There's the impressive resume of MDC's Lori Senecal, along with creative leaders like W+K's Colleen Decourcy and our very own Lisa Bright at Iris, to name a few.
And there are loads more of incredibly strong women atop the industry who are acting as clear role models for the upcoming generation.
The list of female leaders is happily expanding, and I for one am looking forward to that day – sometime soon – when we can finally go from #NotThere to #WeMadeIt.
Sarah Aitken, chief marketing officer, Americas, Iris
The digital takeover
While shocking and a bit gratuitous, Ginsberg's response to the introduction of the IBM System/360 computer can be viewed as an under reaction to what computers (and technology, in the broader sense) would eventually do to the advertising industry.
The agency world I'm in today barely resembles the mythical one of Don, Roger, and Peggy. However, the extent of this transformation shouldn't be news to anyone who has been paying attention.
In the era of families gathering around the TV and singing along to brand jingles, advertising agencies were kingmakers. But we no longer live in that broadcast-centric world. Technology has given people far more control over what they see, think, and ultimately, buy.
This upheaval hasn't just fundamentally remade agencies, it's also shortened the lifespans of the advertisers themselves.
When Harry Crane first switched on that computer, the average S&P company lasted 60 years. Today, it's just 18. Commodification, ever increasing customer expectations, and the death of mass audiences have made it harder for pre-Internet companies to stay in business.
Giants who couldn't disconnect from their routines or imagine a world that would no longer need them have been beaten, bought, or folded into oblivion.
By the time I started out in the industry in the early 90's, the glamour and romance presented on TV and in movies was long gone.
The industry was full of mediocrity and its influence on both business and culture was already waning. Agency life was uninspiring so I, like many others, left. Fortunately, my dissatisfaction with that world coincided with the emergence and rise of the internet.
The internet and digital media are what brought me back to the agency world, but it's not an industry that in any way resembles the one I left. In fact, the opportunities and influence of agencies driving digital transformation resemble and even exceed the very influence and excitement of advertising's hey-day that appealed to me as a kid.
Brands are turning to agencies to help them interpret the insanely complex world they have to do business in, and agencies have the ability to not only handle marketing functions on behalf of their clients, but to fundamentally transform their businesses to compete in the 21st century.
For those who are brave enough to commit to one, today's big idea can be far more consequential than it used to be. Slogans might be catchy, but they don't transform businesses.
Campaigns may sell products, but they don't disrupt industries. The opportunity to use technology to change the way people think and to redefine an industry is now much greater. We have the ability to impact people's lives through our work in far more meaningful ways than just an ad ever could.
All that said, one thing remains the same: brands need agencies that are willing to help them do something bold. The only difference is that now, the stakes are higher and the consequences deeper. It's definitely a job that requires both nipples.
Michael Koziol, managing director, Huge
Diversity and inclusion
We can thank Mad Men-era thinking for creating the need for a specialized multicultural business model. The advertising industry in general was slow on the uptake when it came to societal changes and big demographic shifts.
That left a void, and a handful of visionaries saw the business opportunity left by that void. The smart ones filled it by valuing the contributions and experiences of African-American, Hispanic, Asian, LGBT, and other segments growing in influence and affluence.
What if it had been different? What if the advertising industry cared more about consumers than about its old boys' club?
Imagine agencies and clients embracing inclusion from the start. Not just window-dressing, check-the-box, we-have-people-of-colour-on-our-staff-to fill-a-quota inclusion, but real inclusion — the kind that leverages diverse thinking to fuel innovation; the kind that reflects and respects diverse lives.
Life experiences make us who we are. How better to understand consumers than to celebrate difference and acknowledge the limitations inherent in homogeneity?
Over the years, agencies made little to no effort to change tired hiring practices because only consumers from the "mainstream" were supposed to matter to clients and, therefore, to the creative product that went on air.
Remember Rolodexes? Well, "not in the Rolodex" was a convenient excuse for not bringing in more diverse talent in terms of staff and suppliers. It was common to hear, "We want to hire blacks or Hispanics, they just don't apply" or "We just can't find any."
Scan the Walton Isaacson website, check out the photos under "Who We Are," and you'll find that "We" are everybody. It's reflected in our looks, our lives and our values. That's not how the advertising world looked when we began our careers.
Truth be told, even to this day, there are still too many "Who We Are's" and "Meet the Staff's" that look like they come straight out of the Mad Men era, particularly at senior management levels. Only the fashions and hairstyles have changed (and not always for the better).
There has been progress. Initiatives like the 4A's Multicultural Advertising Training Program underscore a shift in attitudes and actions.
Where doors were once closed to multicultural candidates, they are now not only open but there is even outreach coming from agencies.
The contributions men and women of colour have made in the industry are being recognized by AdColor. The AAF and the ANA have made a difference. The Marcus Graham Project identifies mentors and trains ethnically diverse professionals in all aspects of the industry. Florida State University is one of several universities offering multicultural marketing degrees.
Clients – more diverse themselves and aware that their customers are – are holding their agencies to a higher standard in terms of staff composition and multicultural competencies. Today, multicultural agencies are able to grow their businesses by taking on assignments that were historically reserved for so-called "general market" agencies.
The playing field may not quite be level, but at least there is a playing field.
Aaron Walton and Cory Isaacson, co-founders of Walton Isaacson
The rise of media
Has media ascended to a more prominent role in the marketing mix since the days of Sterling Cooper? There are three key areas in which I see the greatest transformation – and not always for the better.
The first, and most obvious, is technology. Sophisticated new tools, applications, dashboards and "widgets" allow us to make decisions faster and with more data than ever. Sometimes, I worry, without the underlying critical thinking and understanding needed to truly grasp the implications, opportunities and trade-offs.
I am reminded of a prominent CMO who is fond of showing photographs of the Great Pyramid of Giza, the Coliseum in Rome and the Opera House in Sydney.
Clearly architectural styles and building materials have changed, he says, but the underlying principles of physics have not. In some of the industry's work, I sometimes see too much of a focus on the application and not in the underlying principle. We are not doing our jobs if we're not teaching both.
The media business has also undergone a seismic creative shift, and the days of "spots and dots" are gone forever. Today's media teams are content contributors and sometimes creators in their own right, with scores of Cannes Lions and Effie wins under our collective belts. More creativity is both wonderful for clients, but we could all do without the potential for inter-agency squabbles and the fight for control – or revenue.
It is time for softer elbows. Though the entire Sterling Cooper team lived and worked under the same roof, co-location remains less critical than effective collaboration. We must nurture and reward the right behaviours and ways of working to create and sustain the best possible work.
Lastly, media's impact on sales and brand health can be readily measured in many categories, ushering in a new age of accountability.
Media-mix modeling and ROI quantification go a long way toward solving Old Man Wanamaker's conundrum, but in a world that's changing way too fast I wonder if an inflexible focus on metrics will keep us from trying what cannot be measured.
Does Don's imagining the Kodak carousel as a product that "lets us travel the way a child travels, around and around and back home again" sound like an idea that could be measured within an inch of its life? Inspiration and great judgment still trumps good data.
In the end, there is little question that media has taken its rightful place at the table, directing billions of dollars of investment and igniting countless brand stories via inspired ideas and informed plans and strategies. Like Sally, we have lived through the challenges of puberty and adolescence to become (almost) a real grown-up.
As we see with nearly all the Mad Men characters, though, ascendance comes with inevitable pitfalls. It's too easy to fall back on what the tool says or what feels safe, and it is way too convenient to focus on this or that new channel.
True system thinking – ensuring that all the magnificent content works together across each and every client's communications system – requires a level of insight, partnership and understanding that cannot be faked, glossed over or handed off.
Who knows? Maybe the next Peggy Olson will get her start in the media department.
Phil Cowdell, chief executive of MediaCom North America
Globalisation
It's quite easy to see how the world and advertising has changed since the 1960s. I myself am living proof. I am not your typical executive. I am a global citizen.
My full name is Gustavo Marcelo Martinez Garcia-Tuñon. My family is from Barcelona, Spain, but I was born in Argentina and have lived across the world. I am most comfortable speaking in Catalan, my mother tongue, but I also speak Spanish, English, Italian, Portuguese and French.
You would have been hard pressed to find a global CEO with my passport back then. Mad Men would have been more likely to show me pushing a broom in the break room.
The American public in the early 1960s was still largely xenophobic and had an advertising industry that was not just uninterested in interacting with other corners of the globe, it was averse to it.
Remember when Roger Sterling refused to let Sterling Cooper Draper Pryce pursue the account for Japanese-owned Honda? Fools.
This deliberate evasion of global action, of global thinking, is reflected in the show during this period and is even more evident in its stereotypical characters.
In reality, J Walter Thompson was quite global in the 1960's. In fact, we launched the first transoceanic commercial telecast for Kraft in 1965. And our Mexico office had talent including the now famous Gabriel Garcia Marquez working in-house.
Today, we are as interested in the small start-up shop in Burma as we are in the shop on Madison Ave or in Brooklyn.
Talent is coming from everywhere. Ideas are no longer exported from America and translated across geographies. And executives aren't transplant expats who are sent in to "run a region and manage the locals."
We are seeing creative excellence emerge out of China, India, Brazil, Eastern Europe, South Africa and Romania, just to name a few. This groundswell isn't limited to advertising. Significant contributions are being made in the visual arts, fashion, food and other realms.
Technology and social media have erased geographical boundaries, creating one massive global community that has forced advertisers to globalize to keep up with the demands of brands and their consumers. Consumers are in control now.
We aren't doodling on napkins in bars (at least not as often). We are using complex data/analytics tools, forecasting trends, analyzing consumer insights and choosing from infinite media options. TV isn't dead, it's just not viewed on a television that much.
The debut of Mad Men gave the advertising industry a PR boost. The glamour, the sex, the grit, the fashion.
It was entertaining. But I think today's industry has more fire and passion because we are working on a 24/7 global stage, and you never know where the next big idea will arise.
It certainly keeps me awake and inspires me to come to work every day.
Gustavo Martinez, global chief executive officer of J Walter Thompson