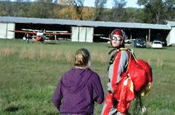 The spot , produced for CR magazine, was shot on a handheld camera, showing two people waiting in a field for a skydiving friend to land.
But the jumper's chute fails to open, and he slams into the ground, provoking screams from his horrified friends.
Happily, the man gets up, only slightly dazed, brushes himself down, and walks away.
The headline "25 years ago, walking away from cancer was just as unlikely" then appears.
Guy Barrett, founding partner at The Brooklyn Brothers, said: "We've all seen films where cancer is portrayed as the slow erosion of life.
"We wanted to bring attention to a more positive aspect: survival. The stories we heard were extraordinary and that led us to create an extraordinary metaphor."
The ad was made with the help of Hungry Man, Edgeworx and Homestead who generously donated their time and funds to be a part of this project.
It is set to air across the major networks in the US, and the Brooklyn Brothers will also be seeding the campaign on various blogs and websites.
Project:
Cancer Research PSA
Client:
CR Magazine/American Association for Cancer Research
Brief:
To raise awareness of medical advances in cancer research.
Creative Agency:
The Brooklyn Brothers
Writer:
Mike Pierantozzi
Art Director:
Clarissa Valaeys
Planner:
n/a (pro bono)
Strategic Planner:
Paul Parton
Production Company:
Hungry Man
Director:
Brendan Gibbons
Editor:
John Young from Homestead
Post-production:
Edgeworx, NY
Exposure:
Network TV and online
Producer:
Ken Licata
Agency:
The Brooklyn Brothers
DP:
David Morabito
Sound:
Human