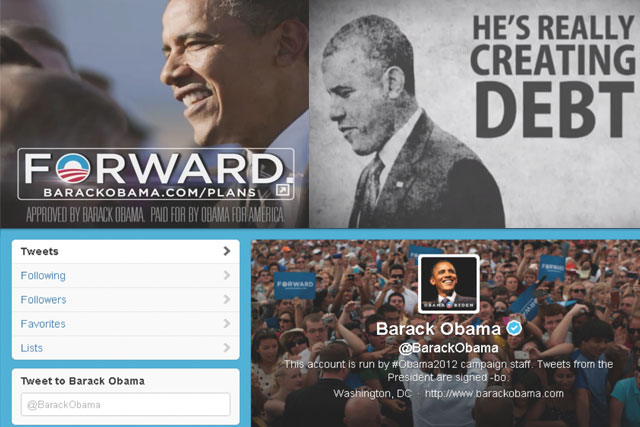 The most talked-about election followed the most talked-about storm. But now that the dust has settled, it's clear that perceptions of campaign advertising were potentially wide of the mark.
The 2012 US election was truly a social phenomenon, engendering 31 million Tweets at a rate that peaked at 327,452 per minute. But it wasn't just about more social; it was more about smart social. Twitter's newly added functionalities, such as promoted Tweets, allowed the Democrats to exploit their opponents' weaknesses and, in buying phrases such as "literally", "malarkey", and "47 per cent", the Obama camp marked itself out as the more savvy social marketer.
Four years ago, Obama's victory crowned him king of social campaigning. Today, his 2008 tally of 115,000 Twitter followers looks quaint beside the 16 million he'd racked up by June this year and the 22.5 million on the day after the election.
But was 2012 really an online election? In terms of media investment, the answer is an emphatic no. In fact, TV remained king, commanding most of the hefty $953 million spend with more than one million ads airing over the period. TV companies' otherwise flat revenues were bumped up into single-digit growth as a result. Online electioneering, meanwhile, focused primarily on earned rather than paid-for media.
The impact of blanket TV ads was not entirely positive, however. There were complaints of poorly targeted campaigning, whose relentlessness famously drove children to tears. It also didn't help that 87 per cent of election ad content was negative.
Celebrity endorsements, which cut little ice in UK elections, worked largely in the Democrats' favour: Oprah Winfrey by her support; Donald Trump by his lack of it.
The Obama team's giant research effort also fed into media buying. By combining data about supporters from a host of different sources, they were able to be precise about where to find their swing voters – and found some bargain buys in the process. Marketers will be examining the Obama team's methods for years. Here, data from the media and marketing performance analyst Ebiquity and creative and strategy experts sift some of the myths from truths.

Clever, authentic and consistent social

Justin Gibbons, creative and media strategy director, Arena Media
There was a negative reaction to the feeling of combative TV ads constantly dominating both campaigns, but that's what elections are like – consumers are saturated with messaging and tire easily.
While not quite the predicted social election, there was some really clever work in social.Obama's Twitter followers have increased by over 15 million since 2008 and his camp used the platform and reach particularly well. Reacting quickly to comments and providing plenty of content, Obama led on social engagement. Importantly, it felt authentic and consistent. Even the posted victory picture with the First Lady and the legend "Four More Years" captured the spirit of the platform – tell a story briefly and make your pictures impactful. Romney was left behind in social and online, further making his party seem backward looking and old-fashioned. We also learned that status quo is a strong force; Romney had no behaviour change thought, and it cost him.

A master of the dark arts of data


Mark Goodwin, creative director, M&C Saatchi
It wasn't creativity that set the Obama campaign apart; it was shrewdness, speed and pinpoint targeting. Employing the dark arts of data to define what to say, when to say it and who to say it to was a masterstroke. Stalking voters wherever they went online and block-booking media early at a discount, all contributed to a new sort of political campaign. One that was, it must be said, four years in the making compared with the Republican's five months! The tactic of using Romney's words against
him was compelling in the My Job film (helped by his foot's unerring ability to head straight
for his mouth when he went off-script). Romney's finest 30 seconds was the Facts are Clear spot attacking the Obama economic policy. But perhaps his money would have
been better spent telling voters who he actually was. Instead he left that to Obama, who splurged millions on TV defining him as a rich, tax-dodging, immigrant-hating,misogynist liar. He never responded.