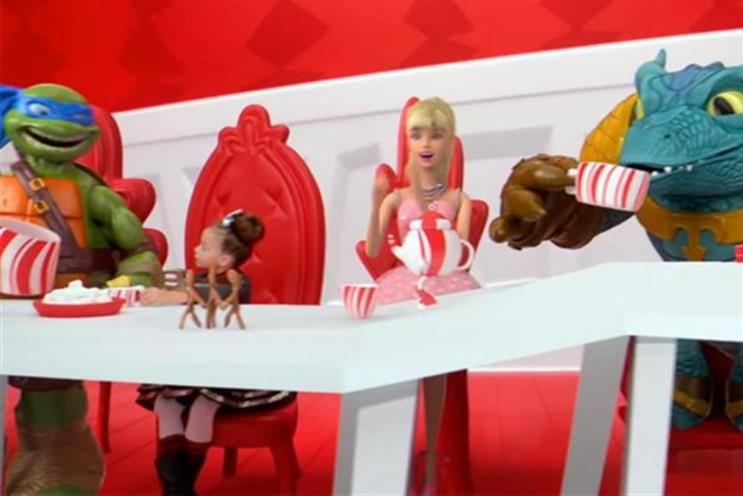 Brands across nation evoke the the holiday season in memorable ways. It's far from exhaustive, but this roundup includes some notable campaigns from 2014.
Dick's Sporting Goods "the hoop" by RSA Films
This spot from Dick's leans on playing a game of hoops with dad, but it breaks stereotypes with a daughter-and-father tradition.
Coca-Cola "Coca-Cola holiday: make someone happy" by Oglivy & Mather Germany
Coca-Cola has a pedigree in holiday commercials. This German commercial was so successful, it was repurposed for the U.S. market.
Samsung "holiday dreams" by RG/A
Tapping the range of touchscreens Samsung sells, this dreamlike holiday sequence is a journey through them all.
Tiffany "a Tiffany holiday" by Ogilvy & Mather New York
There's something about the holidays in New York. Oglivy takes us on a bejeweled, animated tour of the city.
Kmart "jingle bellies" by FCB Chicago
Kmart hit Internet viral gold with guys dancing in Joe Boxer shorts and pregnant women dancing. This spots rounds them off with some musical beer bellies.
Nationwide "brand new holiday belongings" by McKinney
Country singer Jana Kramer sings the jingle and does intense acrobatics as the star. Julia Roberts contributes the voiceover.
Nintendo "dad loses" by Leo Burnett
This highly trafficked spot features a dad challenging his kids to Mario Kart, confident in his years of experience with the classic game. His loss shows video games can be a social family affair.
Target "Alice in marshmallow world" by 72andSunny
In an obvious nod to "Alice in Wonderland," a little girl visits a world of holiday candy and toys, employing Target's signature red color and pup mascot.
Apple "the song" by TBWA Worldwide
Apple has been on a roll lately with "basic to basics" advertising that shows its products in action. This one follows the recent acclaimed "change is in the air" spot.
Kohl's "magic" by Triptent
Kohl's spot doesn't show a a sale or any of the products it carries. Instead, a father takes his bored son into the wilderness to the tune of the Electric Light Orchestra, and then the magic happens.