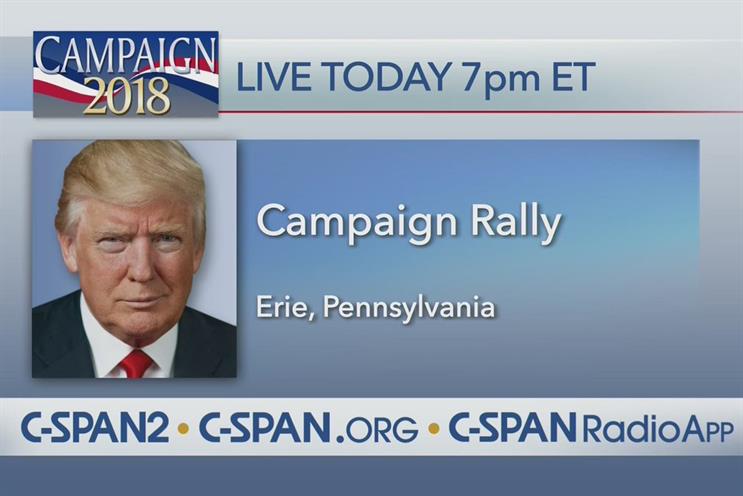 Global advertising revenue is expected to grow by a record 7.2% this year, thanks to billions of dollars of US election spending boosting growth in the world's largest market.
In its latest report on global ad market trends, Interpublic's research arm Magna is forecasting that the industry is enjoying its strongest growth since 2010, following two years of worldwide recession.
Global adspend will grow this year to $552bn (£433bn), with double-digit increases in China (12%), Russia (14%) and India (14%).
The bumper growth was fuelled by $6bn of incremental adspend from major cyclical events – the biggest being the US midterm elections, which contributed $4bn alone, up 40% compared with 2014. That figure is more than the Fifa World Cup in Russia and the Winter Olympics in South Korea, which collectively generated $850m of incremental revenues for national TV (down 2% versus 2014).
Magna blamed poor time zones in Russia and South Korea for the lack of spend growth on the major sporting events, as well as declining audiences and the absence of US athletes (the US football team did not quality for the World Cup and National Hockey League players did not compete in the Olympics).
The US, meanwhile, will grow by 7.5% to $208bn but slow down significantly to 2.5% next year when there will be no nationwide elections.
In the UK, adspend will grow 7.2% this year, outperforming western Europe (4.8%), with TV ad revenue flat versus 2018 and digital growing by 13%. The UK is expected to slow down to 4.7% in 2019, with digital growth down to 9% and non-digital ad sales shrinking by 2.6%.
Excluding the cyclical effect, global adspend growth would have been 6.1% – higher than the equivalent rate of growth in 2017 (5.3%), which suggests strong underlying demand from advertisers remains the main driver of growth in spend this year.
Digital ad sales grew by 17% in 2018 (up from the previous forecast of 15.5%) and now accounts for 46% of global ad revenues. This is driven by double-digit increases in search (16%), video (29%), and social media (33%).
The author of the report, Magna's executive vice-president of global market intelligence, Vincent Letang, believes digital ad formats will account for nearly half (49%) of all global ad dollars next year.
However, Letang also predicts digital advertising growth is expected to slow year on year to 13% in 2019, which was attributed to "maturity" in its rate of growth, which would ensure a slowdown in the next few years.
Non-digital ad sales, meanwhile, will be almost flat this year at 0.2% growth to $301bn. The worst performers are global print net advertising revenue, which dropped 11% to $55bn, and radio, which dipped 1% to $28bn.
Global out-of-home is forecast to grow by $34bn this year, helped by a 16% increase in digital out-of-home to $5.7bn. Magna counts cinema spend within OOH.
Magna has also upgraded its growth forecast for 2019 to 4.7% as the macroeconomic environment is expected to remain strong in the US, China and India.
Excluding the impact of cyclical events not being repeated in 2019, underlying adspend will grow by 4.5% next year – a moderate slowdown compared with growth of 5.3% in 2018.
The Magna report analyses 70 countries to produce its biannual survey on global ad market trends.