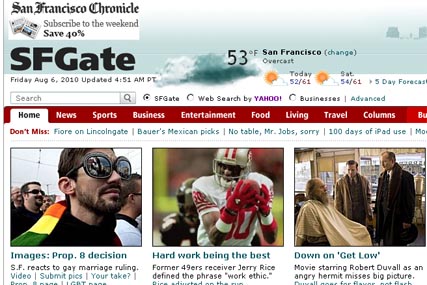 The San Francisco Chronicle's website SFGate.com is using content from Demand Media, for its The Home Guide, as is sister Heart-owned newspaper The Houston Chronicle, which is using content for its Real Estate section.

The deals with Chron.com and SFGate.com add to a deal that Demand Media signed with USA Today to provide content to Gannett's flagship title

According to an email sent by Demand to its Demand Studios contributors, seen by Bnet.com the content producer is staffing up and looking to hire editors and writers to produce this content.

There are fears in some sectors of the publishing industry that using content from firms like Demand Media and the AOL-owned Associated Content is way to cut editorial costs. Demand Media pays less than £4.7 per few hundred word article.

Michele Slack, VP of digital media for SFGate.com, told Ad Age that the move wasn't necessarily about cutting costs.

Does bringing in outside content, supplied by freelancers, undermine the need for your own full-time reporters, or does it [support the business that pays for the newsroom?

"I prefer to think it's the latter [supporting the business]. This provides us with additional revenue opportunities that we can use to support our core newsroom. Our core newsroom is our competitive advantage, so we really depend on the content they provide us with. These partnerships are about bringing in additional users and incremental revenue. All of that is to support our core business and the newsroom is an integral part of that."
Read also AOL's hyperlocal Patch sites are sweatshops, editor claims