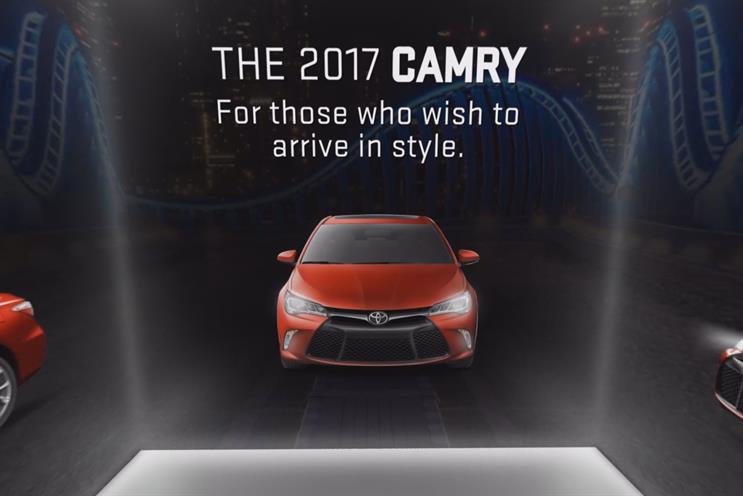 On Thursday, USA Today will become one of the most prominent virtual reality content creators in the news business with the launch of a weekly VR news show, a collaboration between its editorial team and in-house agency, GET Creative.
The Gannett-owned network has partnered with YouTube and Toyota to create "VRtually There," a 360-degree show that will air Thursdays at 2 p.m. EST. Beginning today, users can access the show through the USA Today app, within the VR Stories app and on YouTube.
Each episode, around eight minutes long, will contain three original content segments filmed and produced by USA Today journalists across the US and one piece of minute-long branded content. Also included in every episode is one 15-second ad, which will appear in a unit that GET Creative made exclusively for the show. The unit is specifically designed to display 360-degree video. The agency refers to ads shown within the unit as "cubemercials."
Niko Chauls, director of applied technology at USA Today, said each weekly show will focus on adventurous and inspiring stories that entertain and educate, because the network wants "people's introduction to the medium to be a positive one and one that gives them reasons to come back week after week."
"It's really about building a sustainable audience," said Christopher Sweigart, creative director of GET Creative and who previously was on USA Today's editorial team.
In the first episode, viewers see jets take off from the USS Eisenhower carrier, slackliners instruct about the geometry behind their sport as they climb in Arizona and skies fill with hot air balloons for New Mexico's annual festival. Toyota is featured in the "cubemercial," and the brand's 2017 Camry is promoted with a branded content segment.
"Stories not stunts," added David Hamlin, executive producer of "VRtually There," who had previously won an Emmy for his work for National Geographic.
Kelly Andresen, VP of branded content at GET Creative, said brands are already expressing interest. "We've seen an early adoption for cars and travel industry as well as apparel and consumer goods."
Chauls said that the weekly show and ad unit is a "first for the industry," especially because of the time frame in which the network can create the shows. For instance, an upcoming episode will feature the Macy's Thanksgiving Day Parade, and the team will turn around the content in a week.
"A lot of the other VR, media and Hollywood companies get a million bucks and they spend four or five months creating an incredible piece, but if you want more you have to wait four or five months," he said. "What we want to do is create a regular occurrence, the expectation that you can come back week after week. We felt that news is one of the most effective vehicles and content categories to do that in. That was a big part of the deal to YouTube and Google with the idea of this partnership."
But, he said, some pieces might take weeks depending on the story and characters. "We are really committed to quality and making sure we deliver on the promise every week of great stories and great visuals," said Chauls. "We are not hiring third-party production companies. We are building capabilities in-house and using that to empower our partnerships. In time, we are going to be able to create VR content at scale."
USA Today launched GET Creative at last year's CES. Before "VRtually There," GET Creative had created VR campaigns for Honda, Toyota, Tourism Australia and Nest.
At the beginning of October, GET Creative launched a three-part VR video series for Toyota called "Wish You Were There." The first film takes viewers through Western Austrailia, and the upcoming two will venture to Estonia and Nova Scotia.