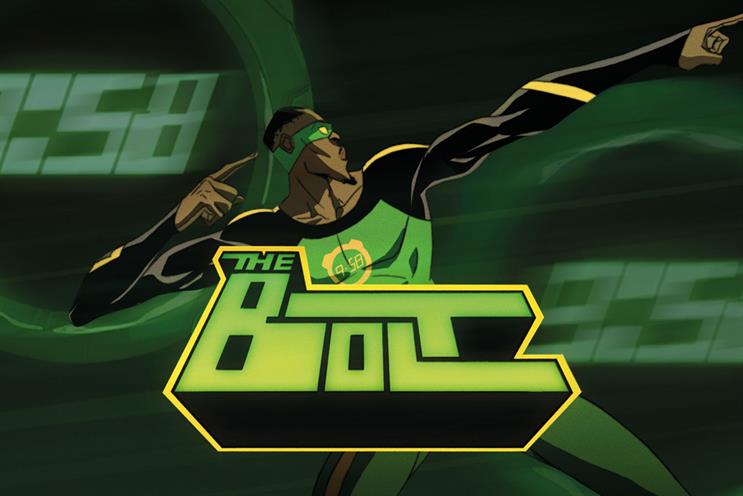 Usain Bolt is a gift. A gift to the world. A wonderful gift to any writer.
If you made him up, no-one would believe you. From humble upbringing to triumph over adversity, he is every cliché. A smasher of world records. A man in such physical shape he looks like he's stepped out of a Marvel comic. Charming. Loved the world over. Called Bolt, for goodness sake. And fast. Fast, with enough time to showboat.
But he is very real and, as we write this, is preparing to attempt the impossible: gold in the 100m, 200m and 4x100m relay for the third time, reaffirming his status as the greatest runner – possibly the greatest athlete – who has ever lived.
Fast-speed broadband connection has long been Virgin Media's edge in technology. Which is how the brand came to be associated with Bolt. He is the personification of Virgin Media. He is fast. He is charismatic. He is Virgin Media. In Lycra.
When our brilliant client, Kerris Bright, challenged Bartle Bogle Hegarty to write the ultimate Bolt film, one thing was immediately clear. This couldn't be just another Bolt film – it had to go deeper into his story than ever before.
"Write something that celebrates what it feels like to be that fast," Ben Fennell, our sport-loving chief executive, suggested.
"Let's write something specifically about 9.58 seconds – the time he broke the world record in," Dav said.
"Could the film be like the race itself?" we imagined. "What if we recreated the physical and emotional experience, over and over again, from different perspectives, each sequence exactly 9.58 seconds long?"
We set off for Jamaica with Academy director Seb Edwards and a great storyboard. We had so many ideas, all of which were scribbled down in Nick's old-school workbook. Each 9.58-second sequence had to behave like a film in itself. We weren't on a shoot. We were on ten shoots.

Virgin Media: '9.58 seconds' comprises ten films; Right: Gill's sketches for one of them
Shooting began in the gym. We waited for the great man to arrive.
There are two things that strike you when you first meet Usain Bolt on home turf. One, that people accept him. His image is everywhere you look in Jamaica but people aren't screaming and pouring out of their houses when he arrives. Bolt could have followed the path of many of his contemporaries and gone to the US for a lucrative scholarship but he stayed in Jamaica to train and live the life he loves. This is respected.
Two, he is huge. His massive shoulders honed from healthy Jamaican cooking in rural Trelawny and humping bags of dry-cleaning up jungle tracks for his mum. His height is famously all wrong for a sprinter. His limbs go on forever. When we squeezed into the back of a van with him to record some voice-over, it was like sharing a space with a horse. We sat on the wheel arch, only aware of this vast expanse of leg. These legs are so huge they take four strides less than the competition over 100 metres.
He is also very cool and has an equally cool entourage around him who look after him. Will Usain jump in an ice bath? "I'll ask him." "No." Is he happy to vomit during our training sequence? "I'll ask him." "Yes."
Bolt loves dance music and that first night we would shoot him and others doing their thing to throbbing dancehall beats. "Give me more booty!" Alwin Kuchler, our director of photography, said – only to be confronted by an intimidating wall of gyrating backsides.
Day two began in the studio with Seb shooting Bolt on a Phantom cam at 1,000 frames per second for beautifully crisp slow-mo. But we were made to wait. He is a huge Man Utd fan and had insisted on watching the Manchester derby first. A 1-0 win ensured that he arrived in good spirits.
And then we saw him run. As a cameraman on a quad bike followed him down the track, he "became" Bolt before our eyes – balanced, head still, limbs pumping like a machine, feet pounding the track in huge, even strides. This is what he was put on this Earth to do, and it was a joy to watch him.
Growing up, the young Bolt was never out of arcades, and day three saw us shooting a local lad, Cyril, playing him, running through fields of sugar cane, imagining himself in a game, destroying animated characters that would be added by Electric Theatre Collective in post. That day, we discovered something else about Jamaica. It is hot.
Back in London and after weeks of post, the final task was to record the voiceover. Bolt's hero was always the great Michael Johnson, still the 400m world-record holder. He was the only voice that could be on this film and, as we've all discovered from his BBC punditry, he speaks nearly as well as he runs. When Michael watched the film, he grinned – which was a relief. Then he assured us, in that wonderful voice, that Bolt – if fit – could triumph again in Rio.
It is something that one man can enrapture the whole world in ten seconds of breathtaking athleticism. We hope he does it again. We hope, in our film, we've done justice not just to Virgin Media's ambitions but also to this great man's achievements.
Nick Gill is the executive creative director and Davud Karbassioun is the chief production officer at Bartle Bogle Hegarty London