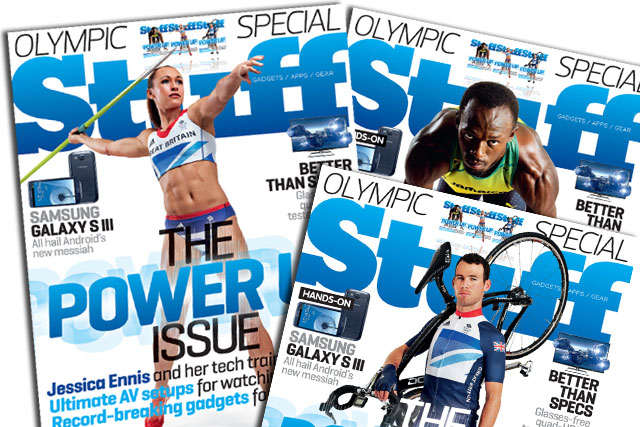 Readers can choose from three special covers featuring British road cyclist Cavendish holding his bike over his shoulder; British heptathlete Ennis holding a javelin, and Jamaican sprinter and 100m and 200m world record holder Bolt, in the starting position.
As well as being photographed for the covers, all three athletes are interviewed in the magazine about what technology helps them and their training, alongside a Stuff guide to the London 2012 Olympics.
A spokeswoman for Stuff said it was the first time the magazine had not run a photograph of a "cover girl" on its front since it launched 15 years ago.
The special issue of Stuff, which is published by Haymarket Media Group, publisher of MediaWeek.co.uk, is on sale today (1 June) with a cover price of £4.35. The iPad version costs £2.99 for one issue or £23.99 for 12 months.
Will Findlater, editor at Stuff, said: "This is a first for us on the newsstand. In celebration of the UK hosting the Olympics, we secured interviews with three of the world's greatest athletes and they are more than deserving of Stuff's front cover.
"With technology so central to elite performance, it's a real coup to go behind the scenes with them and find out what it takes to be the best."
Stuff had an average circulation of 82,226 in between 1 July 2011 and 31 December 2011, according to the Audit Bureau of Circulations (ABC). Its main competitor is Future Publishing's T3 which had an average ABC circulation of 49,006 in the same period.
Follow Maisie McCabe on Twitter @MaisieMcCabe