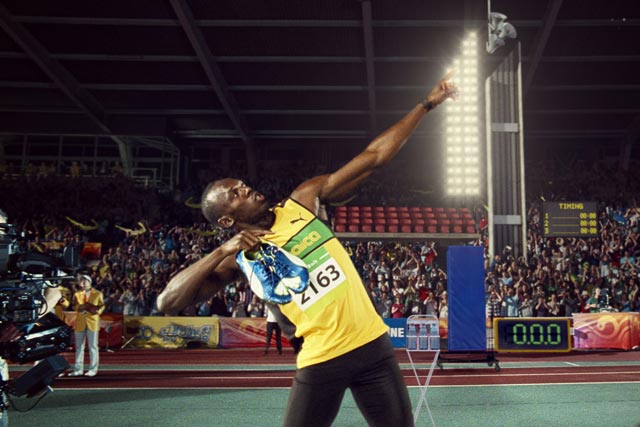 In the ident, created by Channel 4's 4Creative department, Bolt walks along the track in a crowded stadium after winning a race, climaxing with Bolt striking his signature "lightning bolt" pose.
As the camera pans slowly around Bolt, the angle of his pose creates the illusion of a Channel 4 logo.
The Jamaican sprinter appears in his athletics kit, featuring the logo of his key sponsor Puma.
The new ident is being broadcast in the run-up to Channel 4's coverage of the IAAF World Athletics Championships, from 27 August to 4 September, and will play on rotation among the channel's regular suite of idents in the run-up to the competition.
Tom Tagholm, Channel 4's network creative director, said: "This is the first 4 ident to star a human being, and who better to choose than the fastest guy on the planet?
"It's a great coup for the channel and 4Creative, and a huge privilege to work with a true sporting legend.
"Technically it was a challenge, Usain had to be shot on a tennis court next to a secret training facility, with the entirety of the stadium, the crowd and the 4 elements added in post.
"Our production and post teams pulled out all the stops to create real magic."