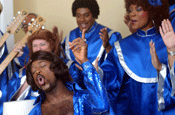 The site has approached a number of undisclosed agencies with a view to holding a pitch for the business. However, MCBD will not be repitching for the account.

The review follows shortly after Cossette Communication Group, which owns MCBD, Elvis, Dare and the digital start-up Switch, secured the advertising account for Which? Consumer Group's recently launched price comparison site.

Since its appointment to the uSwitch account in April 2006, MCBD has created gospel-themed TV ads for the brand.