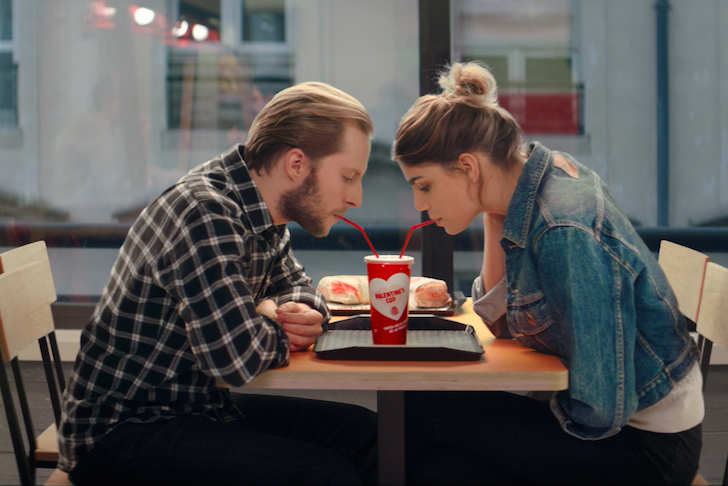 Burger King (France)
The fast-food giant has come up with a new lid for its soft drink cups which allows Valentine's couples to use two straws in order to share a drink.
The ad was produced by Buzzman and Productman.
Burger King (Israel)
Kids famously have their own meal at Burger King, but shouldn't adults have their own version too on Valentine's Day?
Not only does the meal come with two Whopper hamburgers and two portions of french fries, there are also two beers and an "adult toy" to enjoy once you get home.
The ad was created by Leo Burnett Israel (copywriter: Oren Ben Naim; art director: Meital Miller).
Deliveroo
Apparently new research suggests British couples would be happy to have a "third wheel" on Valentine's Day, so Deliveroo has really run (or cycled?) with it. The delivery app's brand ad stars Kevin, a single man who is "soul-crushingly alone" – ouch.
Coco de Mer
Baywatch is making a comeback and so is Pamela Anderson: "Pammy" is fronting a campaign from Coco de Mer encouraging women to take back control of Valentine's Day. She returns home to prepare for Valentine's night – undressing, playing music and sprinkling rose petals on her bed. But instead of waiting for a romantic partner, she is actually getting ready to spend the night alone with a sex toy. The film ends with her saying, "Fuck Valentine's Day." Language!
The film was directed by Rankin and created by his agency, The Full Service.
Snickers
The Mars-owned chocolate brand have launched a series of billboards in London to help forgetful passersby pick-up a Valentine's Day card. Each of the 15 billboards has 300 replaceable cards that can be peeled off and given to a loved one.
The stunt was created by Abbott Mead Vickers BBDO with help from outdoor specialists Primesight.
Domino's
It's of course in Domino's interest, meanwhile, for lovebirds to stay in on Valentine's Day and share a pizza. This year the brand is promoting a Valen-Dine In event on Facebook, to which people can win a "Box of love" if they declare on Facebook that they are attending the event.
Swarovski
Swarovski has unveiled its new Valentine's Day TV ad, starring Karlie Kloss in her second TV spot for the brand. Spoiler alert: there is a lot of motorcycle-riding and necklace-flashing in this film.
The ad was created by The Communication Store and directed by Craig McDean through Laird and Partners.
Droga5 London
The creative agency is pushing cards with "ugly" endangered animals to provide a heart-warming but serious message to this year's day of love.
Droga5 persuaded printing company Screaming Colour, picture agency Shutterstock and a number of photographers to help produce them at a discounted rate to make as much money from the cards as possible, with all profits being shared between a number of charities. To buy the cards, go to uglyandforgotten.com.
Rays of Sunshine
The charity that supports children and young people with serious or life-limiting illness has today launched the #Kisses4Wishes campaign with a wraparound cover in Time Out London.
Creative agency Blue Latitude Health provided strategy and creative consultancy for free to support the campaign, which was pioneered by 15-year-old bone cancer survivor Caitlin.
Danone
Aptawelt, the German Danone Nutricia Early Life Nutrition brand, has launched a Valentine's Day campaign to reveal the life-long impact of the love parents give their babies.
The ad was created by Unlimited (copywriter: Tim Lines; art director: Ian Bates) and directed by Ian Seineder through Dropout, with media handled by MEC.