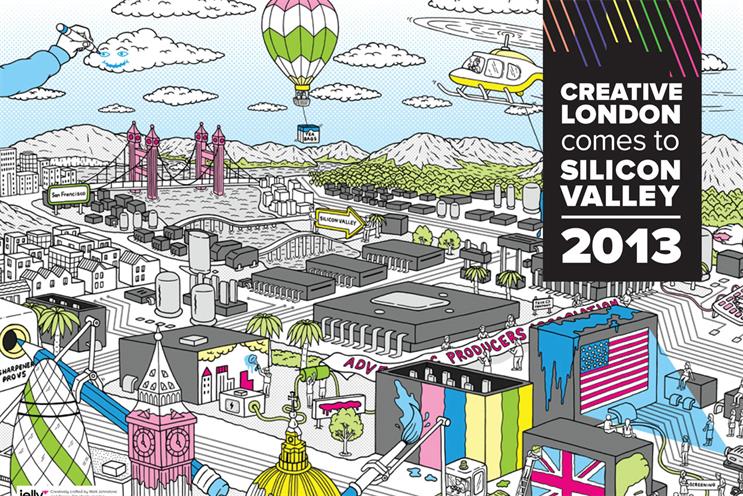 At the close of 2012, while ad folk (depending on the year they had) either licked their wounds or their own reflections, the Advertising Producers Association was busy crafting a spring trip for its members.
The plan was to take Creative London – representatives of leading production and post-production companies – to Silicon Valley, to provide networking opportunities within some of its most innovative companies and to encourage penetrative discourse on what makes such a virile business centre pulse, while also exploring the possibility of cross-pollination.
Producers count themselves lucky to be at the execution end of the advertising funnel. Before them has gone the exploration and strategising that results in a client's decision to make something – a piece of advertising – and that is when the APA member's phone rings.
But the shape that piece takes has exploded, mercury-like, into such myriad forms that waiting at the end of the funnel is no longer an option if you want to optimise your ability to make things – there are now too many funnels.
This is perhaps why a record 35 companies signed up for the trip, seizing the opportunity to meet with some of the organisations that are responsible for the disruption in the media landscape that has caused the advertising industry to fragment.
And so it was that a group of producers and managing directors headed out to California, unsure of the specific ROI, but eager to gather knowledge and contacts – both of which were amassed in abundance. If you're going to send a group of people into an unknown situation in the hope they will come back with compelling results, then who better to send than commercial film-makers?
How the delegates build on their experiences in Silicon Valley is up to them. The APA, in its diligence, has published a comprehensive report. Furthermore, the "conversation" (as buzzword fans nauseatingly refer to the exploration of business opportunities) will continue at The Future Of Advertising… In One Afternoon event at Bafta on 8 May.
However, here are my personal highlights:
1. The meeting at Google's seven-year-young YouTube headquarters
YouTube is the content mothership. It is responsible for the lion's share of disruption in the innumerable forms branded content now takes and how it is delivered. Long before brands know what their content is going to look like, they know that they want it to get millions of views on YouTube. So, for us branded film-makers, it was an unprecedented opportunity to hear about the latest thinking and innovations being worked on.
Data is king, and dictates the way audiences are targeted and marketed to, and Google has the advantage of knowing our every virtual move. Yet, crucially for APA members, YouTube is keener than ever to be a home for quality content and a platform that matters for all brands.
Of the 35 APA members at the meeting, each one had created content that lives successfully on YouTube, spreading their clients' messages in 61 languages across the 53 countries the site is localised in. However, several of the attendees went into that meeting seeing it as a platform, but came away seeing it as a possible commissioner.
2. Netflix is a streaming service but, as of 2013, is becoming a data-based content commissioner on a mission
The astonishing wealth and detail of audience viewing habits available to Netflix has directly informed the creation of six original series across as many genres – the first of which is House Of Cards. With all 13 episodes of season one already delivered "day and date", House Of Cards is characteristic of the distribution-killing model that the company is spearheading.
Netflix's criteria for content-creating partnerships is simple: partners must be outstanding. Hence, first up, it gave free rein to Beau Willimon, Kevin Spacey and David Fincher. An exciting takeaway is that it will continue growing its documentary, independent film and, in time, short-film divisions that in turn will create possibilities for the commissioning of original content in those areas.
Today, Netflix has a relatively quiet voice in the UK. Expect that situation to change very soon.


3. Twitter gave us an immaculate presentation on its continuing growth
and dominance in the micro-blogosphere We learned about the power of "transmedia" and were shown examples of multiscreen campaigns, where the primary content is consumed on the big screen of the household, while the ancillary content (such as a Twitter conversation) is engaged with on a phone or tablet
simultaneously. With Twitter's acquisition of Vine, it felt like a timely visit as the trend for condensed visual messaging approaches tipping point.
For those of us lucky enough to be on the trip, I believe a lot of its nourishment was found in the shared experience of doing something so different. And Silicon Valley is such a different world to the London advertising scene. Start-ups are nurtured at university,
invested in by the venture capitalists, championed by their networks and then sold to one of the acquisition monsters, all within a 30-mile radius.
In London now, there is a growing group of production companies with diverse services, creative and gaming divisions, external investment and an exit strategy – a few of them were in attendance on the trip – but the sheer concentration of talent and investment in the Silicon Valley ecosystem is what makes it unique.
Tim Daukes is a producer at HLA