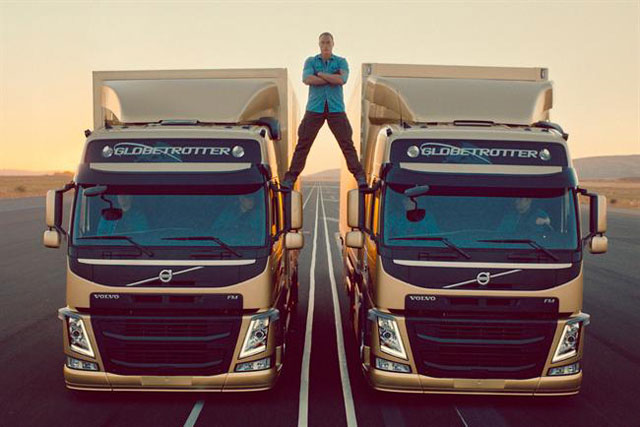 The car marque commissioned a survey of transport companies to measure the success of its "live test" campaign, which comprised six online films that demonstrated features of its new truck in outlandish ways.
Respondents were asked to what extent they agreed (by scoring between one and five, where one means disagree completely and five means agree completely) that a particular ad made them interested in buying a Volvo.
The "epic split" spot, which has been watched more than 70 million times on YouTube since it was released in November, received an average score of 2.4, the lowest of the six online spots included in the survey.
A spot called "technician", in which a truck drove over a man who had been buried up to his neck in gravel, received the highest average score at 2.9. "Technician" has fewer than one million views on YouTube.
Another question measuring the effect Volvo ads had on viewer behaviour also showed "technician" to be more effective.
Out of the respondents who had seen "epic split", 24 per cent said they took action after seeing it (either visiting a Volvo website or contacting a dealer), 19 per cent said they intended to take action, and 57 per cent said they did not intend to take action.
Out of those who had seen "technician", 39 per cent said that they had taken action, 16 per cent said that they intended to, and 45 per cent said they did not intend to.
But the "epic split" ad was rated the most attention-grabbing, with an average score of 4.1. The next most attention-grabbing spot was "ballerina", which showed a woman walking a tightrope between two moving trucks, and scored an average of four.
Following the release of the "live test" campaign, which was created by Swedish agency Forsman & Bodenfors, Volvo's online popularity received a huge boost.
Between June 2012 and April 2014, subscribers to Volvo's YouTube channel rose from 3,500 to 90,000. The brand's number of Facebook fans increased from 16,000 to 330,000, while the number of monthly visitors to Volvo Trucks European websites rose from 175,000 to 300,000.
Estimated earned media value from the "live test" campaign was €128 million (£106.1 million).
Volvo commissioned the German market research institute GFK to interview 2,200 transport companies for the survey. Half of those questioned were Volvo customers, half used competitors.
GFK interviewed companies in eight different countries – Sweden, France, Germany, UK, Spain, Poland, Russia and Brazil – between December 2013 and January 2014.
Richard Hansson, a division manager at GfK, said: "From our experience we know that people in general do not want to admit that they have been influenced by a commercial.
"The results from the Volvo Trucks survey point to the fact that the films included in the campaign have not been perceived as commercials in a traditional sense, but have given an added value to the viewers."