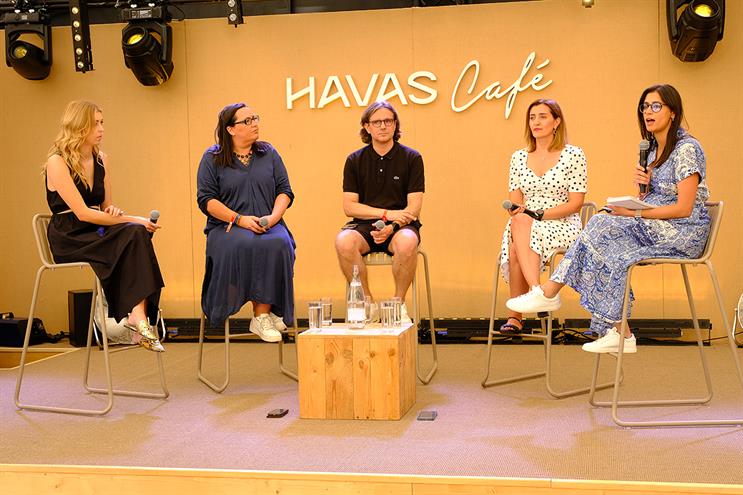 Creating campaigns with purpose is a notoriously tricky. Producing an ad that hits the mark requires creative to be authentic, to understand its audience deeply, and to align with a brand's own values.
Consumers are savvier than ever and instantly see through campaigns they perceive to be purpose-washing, potentially causing long-term brand damage. But done right, purpose-led campaigns create much-needed conversation and awareness about the subjects they portray, as well as building authenticity, trust, and long-term brand equity.
There have been few better examples in recent years than Vanish's 'Me, My Autism & I' ad campaign, which won Channel 4's prestigious £1m Diversity in Advertising Award earlier this year. Created by Havas London, it has been widely praised for shining a light on the gender diagnosis gap in autism – and its accurate portrayal of the disorder.
Campaign hosted a panel discussion in partnership with Havas London, bringing together several of the creators behind the ad to get the inside story of 'Me, My Autism & I'.
'Leaving the world in a better place'
Xavier Rees, UK group CEO at Havas, said the agency's wider approach to its creative work guided the ad. "There is a choice to be made when it comes to marketing. That choice is whether you use pure functionality to get your message across, or you can use the money that's being invested to convey that message – while also leaving the world in a better place.
"The best advertising has always achieved that, and this is a great example."
At the heart of the ad is the story of an autistic girl's hoody and the importance she attaches to it. "Our aim was to show how much clothes can mean to people," said Becky Taylor Wilkinson, strategy partner, Havas London.
"For autistic people who can struggle to regulate their senses, clothes can take on a whole new level of importance. That felt intrinsically tied to Vanish's purpose of making clothes live longer. It was a real lightbulb moment."
Havas London partnered with Ambitious About Autism, a UK charity which aims to improve opportunities for young people on the Autism Spectrum. "The campaign really snowballed from there," said Hollie Iles, senior creative at Havas London.
"That gave us access and insight from so many people in the community. We saw there is a genuine overlap of the Vanish brand, which keeps clothes going wash after wash, and how important that is for people in the autism community."
Relatable, real and rounded
Havas London worked with Oscar-winning director Tom Hooper to produce the ad. To ensure the dialogue was accurate and authentic, every line of the script was based on an interview, or genuine soundbites from social media, to ensure the character was three-dimensional and relatable to fellow autistic people.
"We were very lucky to work with Tom," said Iles. "We put complete trust in him to take this really sensitive story mainstream. All of his work has themes of acceptance and compassion, and he was just so enthusiastic about the process." 
The team cast an autistic girl for the lead, meticulously recreating her real-life bedroom for the shoot. Her real family actually played the character's family in the film, while her friends were cast to play her co-stars in the ad – adding to the complexity and achievement of the film.
"All of those factors were necessary to ensure we could cast an autistic girl in the lead role and create an environment where she was comfortable," said Rees.
Storytelling that hit the home
The ad premiered at primetime during Channel 4's Gogglebox. The impact was enormous.
"We weren't prepared for the results," said Cigdem Kurtulus, marketing director at hygiene UK&I at Reckitt – Vanish's parent company. "When the ad went out on a Friday night, we all had to return to the office because the response was so strong. We had a full-time team responding to comments on the video, and we saw conversations being sparked within the community, which shows the power of the creative."
Taylor Wilkinson described the reaction to the campaign as "phenomenal". "People were saying 'have you seen the Vanish ad', so while they could see it was a campaign inspired by their community, they also saw the connection with the brand and the authenticity of the link.
"There was no confusion about why Vanish would be running an ad like this. The connection was completely clear."
Rees, who has an autistic daughter, said the campaign and the huge response to it show "there is no such thing as a low-interest category".
"This is a product with a true story at its heart. It is understandable that people focus on the autism piece, and it is a topic very close to my heart. But the script doesn't exist without Vanish. It is marketing at its best – selling a product story in an incredibly emotional way in a category where people think the vision is too great."
The Panel
Moderator: Gurjit Degun, Campaign creativity & culture editor; Cigdem Kurtulus, marketing director, hygiene UK&I,
Reckitt
; Xavier Rees, UK group CEO, Havas; Becky Taylor Wilkinson, strategy partner, Havas London; Hollie Iles, senior creative, Havas London