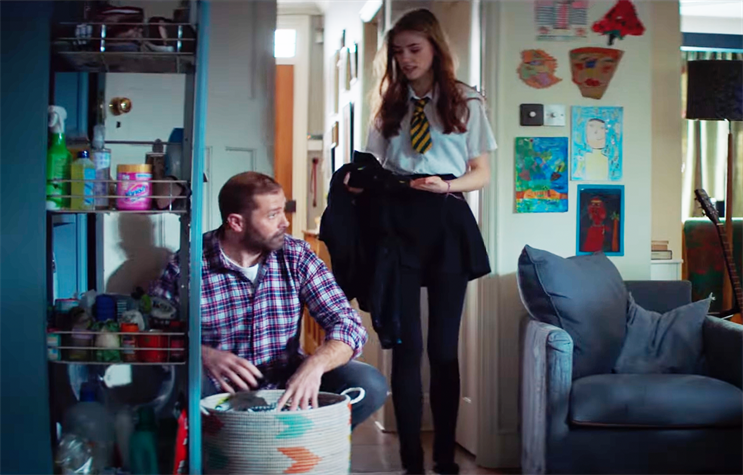 A powerful demonstration of the gender gap in autism has won the latest Thinkboxes award for TV creativity.

The two-minute film for stain removal brand Vanish, which also won Channel 4's annual Diversity in Advertising Award, tells the story of one autistic girl and the visceral importance to her of her hoodie. It was developed with support from Ambitious about Autism, the UK national charity for autistic children.

"The starting point was when we were working on a separate product-led brief," says Havas' senior account director Catherine Martyn.

"Vanish's purpose is all about helping clothes live longer. And this positioning is two-fold: its importance for the environment and to people, given the emotive relationship everyone has with clothing and certain garments they wear again and again."

When the discussion turned to why clothes matter to people, the degree to which they really matter to those with sensory sensitivities – especially people with autism, as they help regulate their senses and navigate the world about them – became clear.

Hours of research followed, including a survey that generated more than 2,000 responses. Early scripts were then developed – initially, focused on a boy. But when the team found out that girls are three times less likely to receive an autism diagnosis than boys, attention switched.

Martyn adds: "This (stat) hit us so hard [that] we knew we had to help bring awareness to the gender gap and platform the stories of autistic girls." 

With TV a hugely important way for the brand to drive mass awareness, its role as the campaign's lead medium was never in doubt.

"It was the only channel that would drive maximum impact, allowing us to broaden public understanding and spark the level of conversations we wanted to as part of the campaign's objectives," says Cigdem Kurtulus, UK marketing director at Vanish's parent, Reckitt. 

"It was particularly exciting for us to launch with a two-minute film, allowing us to really land (the main character) Ash's story with the care it deserves." The director chosen for the film was Tom Hooper, an Emmy and Oscar winning director whose numerous credits include The King's Speech.

"We knew he would take our sensitive story to the mainstream eloquently. The theme of acceptance has always fascinated him, and this was an opportunity for him to explore that within the autistic community," says Havas senior creative Hollie Iles.

They were right. 


And the only challenge was having much more great footage than was needed, then condensing it into a two-minute edit – though this was ably handled by a hugely collaborative post-production team and Russell Icke at Whitehouse Post.

"The phenomenal level of detail in the edit from Russell and Tom was a masterclass in craft," Iles adds. "From edit to sound to the composition of a gripping score, the project was touched by so many talented people who each left an indelible mark."

The ad launched during World Autism Acceptance Week with a two-minute slot in Gogglebox as part of a £1m airtime prize for winning Channel 4's prestigious Diversity in Advertising Award.  "Beyond TV, the campaign platformed a host of autistic female voices across an exhibition at the gallery@oxo, a brand content series with 4Studio, a social campaign, outdoor and an online education hub," Kurtulus says.

"We also partnered with Asda in an in-store activation which underpinned our commitment via donations alongside every product purchase. 

"And with Good Loop (an online advertising company that serves adverts for brands whilst raising money for charity), we drove further awareness of our film and donations to Ambitious about Autism."

All involved declare the reception to the campaign as "phenomenal". 

Over the launch weekend, "Vanish autism ad" trended #1 on TikTok. And Kurtulus says she was touched by "the richness of the conversation" the film provoked – including notes sent directly to the team involved.

"Beyond this, we were delighted to see the community coming together to better cater for the needs of autistic people. One touching example was a discussion between teachers who were reconsidering their school uniform policy after seeing our advert," she reveals.

"I think we all knew we had something great, but I don't think any of us realised how much of an impact it could have. We set out to broaden the public's understanding of autism and help autistic girls feel seen, heard and supported – and we did just that," says Martyn.

Adds Iles: "The film really rested on the casting, and it wouldn't be half the success without the incredible lead and her supportive family and friends starring alongside her."

Second in the March/April Thinkboxes was "Marmite baby scan" by Adam&Eve/DDB for Marmite. "Welcome to the helpful network" by BBH London for Tesco Mobile was third. Also shortlisted were "Feel FREENOW" by BMB for FREENow and "Show off your savvy" by Mother for IKEA.
WINNING AD
Agency: Havas London
Creative team: Hollie Iles, Elliot Harris, Vicki Maguire, Sasha Midgley, Aly Marx-Blackwell
Client: Cigdem Kirtulus, Reckitt, UK & Ireland
Production company: Smuggler
Director: Tom Hooper
The Thinkboxes, in association with Campaign, are the only bi-monthly awards that celebrate the UK's world-beating TV ad creativity, in all its forms. They are judged by the Thinkbox Academy – advertising and marketing luminaries who have been involved in award-winning creative work for TV.
Want to see more great work? Head to the Thinkboxes hub
Thinkbox is the marketing body for commercial TV in the UK, in all its forms. Its shareholders are Channel 4, ITV, Sky Media and UKTV. Thinkbox works with the marketing community with a single ambition: to help advertisers get the best out of today's TV.